Fall turkey hunters get last shot at bagging a bird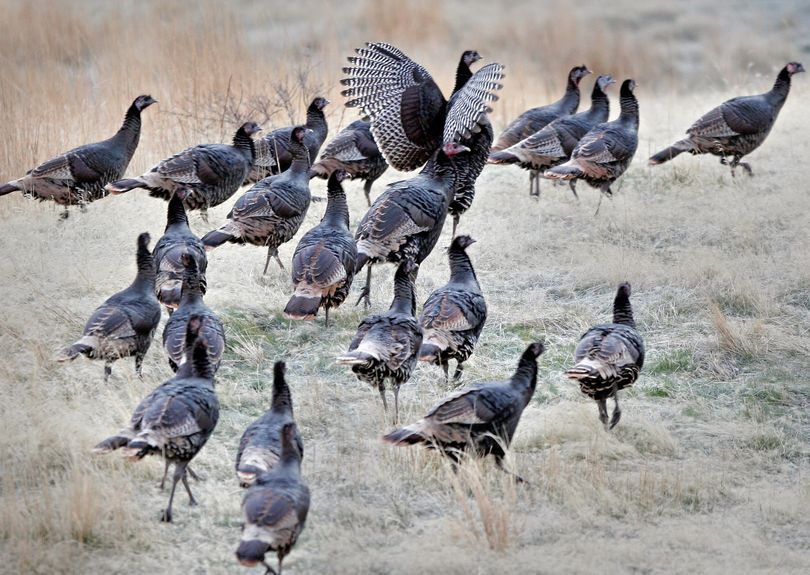 HUNTING -- The last of Washington's fall general seasons for hunting wild turkey starts Monday, Nov. 20, and runs through Dec. 15 in Game Management Units 105-154 and units 162-186. The season is designed to reduce the number of birds congregated on lowland areas for winter. Turkeys of either sex are legal to harvest with a valid tag.
While your planning your hunting strategy, consider this wild turkey trivia from the website for National Wildlife Refuges, some of which (Little Pend Oreille comes to mind) provide hunting for turkeys.
Wild turkey sounds range far beyond "gobble, gobble. Turkey's make all kinds of sounds: fly-down or fly-up cackle; kee kee run; excited yelp and more. Hear them all at this website.
Turkey droppings tell a bird's sex and age. Male droppings are j-shaped; female droppings are spiral-shaped. The larger the diameter, the older the bird.
An adult turkey has 5,000 to 6,000 feathers on its body.
Turkeys are fast. In a poultry race, they can clock more than 12 mph, beating chickens by 3 mph. The eastern cottontail leaves them both in the dust as it zig zags away from danger at 18 mph.
Tom turkeys aren't the only ones that swagger and fan their tail feathers to woo mates and ward off rivals. Some hens strut, too.
Young turkeys – poults – scarf down insects like candy. They develop more of a taste for plants after they're four weeks old.
Ben Franklin called the wild turkey a "bird of courage" and thought it would make a better national symbol than the bald eagle.
---
---