Hanford Reach chinook fishing holds steady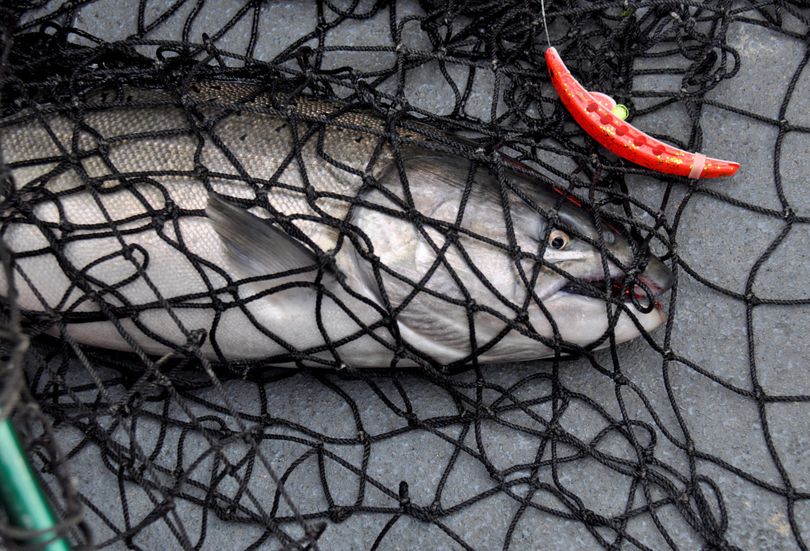 FISHING -- The catch of chinook in the Hanford Reach of the Columbia held steady last week with an average of 1.2 salmon per boat. Last week was perhaps the peak of the run heading to spawning areas below Priest Rapids Dam.
The 2017 run of upriver brights is below average, but substantial enough to meet spawning goals, says Paul Hoffarth, Washington Department of Fish and Wildlife fisheries biologist in the Tri-Cities. "At this time, there are no plans to modify the current regulations for the Hanford Reach," he said.
Following is Hoffarth's Hanford Reach creel survey report for the week ending Sunday, Oct. 1:
WDFW staff interviewed anglers from 732 boats (1,871 anglers) and 87 bank anglers (Ringold access area) and sampled 800 adult chinook and 54 jacks. Based on the information collected, an estimated 2,796 adult chinook, 190 jacks, and 11 coho were harvested this past week from 6,766 angler trips. Anglers averaged 1.2 chinook per boat, 14.5 hours per fish.

Through October 1, 4,719 adult fall chinook and 393 chinook jacks have been harvested in the Hanford Reach from 17,653 angler trips.

A Hanford Reach in-season adult fall chinook update was completed on September 30 that estimates a natural origin return of 51,000. This would allow a harvest of roughly 12,850 adults and still meet escapement goals for the Reach.
---
---