Tue., Oct. 3, 2017
Washington's first razor clam dig of season Oct. 6-7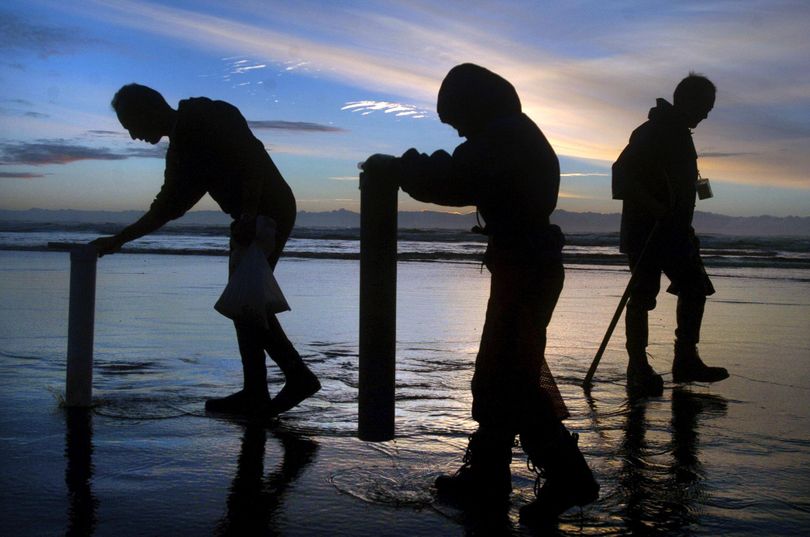 SHELLFISHING – The first razor clam dig of the fall season will get underway Oct. 6-7 at four ocean beaches, the Washington Department of Fish and Wildlife announced today.
A Puget Sound season will open Oct. 7.
The agency has approved the ocean beaches dig on evening tides at Long Beach, Twin Harbors, Copalis and Mocrocks after marine toxin tests showed that clams on those beaches are safe to eat. No digging will be allowed on any beach before noon.
The upcoming dig is approved on the following beaches, dates and evening low tides:
Oct. 6, Friday, 7:49 p.m.; -0.4 feet; Long Beach, Twin Harbors, Copalis, Mocrocks
Oct. 7, Saturday, 8:33 p.m.; -0.7 feet; Long Beach, Twin Harbors, Copalis, Mocrocks
Diggers should hit the beach about an hour or two before low tide for the best results, says Dan Ayres, WDFW coastal shellfish manager.
Here's more from a WDFW release:
Before receiving the test results, Ayres said he had received a number of calls from diggers about an erroneous newspaper story that suggested that ocean beaches would remain closed to digging.

"A map on the Washington Department of Health's website indicates that beaches are closed to razor clam digging up until they are cleared to open by the test results," Ayres said. "We're pleased that we are able to move ahead with this opening as scheduled."

A recent statement in a story about Pierce County's shellfish ban might have caused some confusion among razor clam diggers. While it's true that the Washington coast has been closed to clam digging, that closure could be superseded by favorable results from a marine toxin test, due as early as Oct. 3. The Washington Department of Fish and Wildlife will post the results of that test at http://wdfw.wa.gov/fishing/shellfish/razorclams/current.html.

WDFW has tentatively scheduled another dig for Nov. 2-5, pending results of future toxin tests. More information on planned digs can be found on WDFW's razor clam webpage at http://wdfw.wa.gov/fishing/shellfish/razorclams/current.html.

All diggers age 15 or older must have an applicable 2017-18 fishing license to harvest razor clams on any beach. Licenses, ranging from a three-day razor clam license to an annual combination fishing license, are available on WDFW's website at https://fishhunt.dfw.wa.gov and from license vendors around the state.

Under state law, diggers at open beaches can take 15 razor clams per day and are required to keep the first 15 they dig. Each digger's clams must be kept in a separate container.

Ayres noted that throughout the 2017-18 razor clam season, a research team from the University of Maryland will be out on the beaches seeking volunteers to participate in a survey about razor clam consumption and harvesting practices. For more information, contact Lynn Grattan at 877-668-4559 or LGrattan@som.umaryland.edu.
The Puget Sound razor clam dig opener was announced in a separate release posted by Washington Department of Fish and Wildlife Tuesday afternoon as follows:
Several marine areas of Puget Sound will reopen for recreational crab fishing on Oct. 7, the Washington Department of Fish and Wildlife (WDFW) announced today.

The openings were approved by fishery managers after summer catch assessments by WDFW indicated additional crab are available for harvest during the late season, said Don Velasquez, shellfish manager for the department.

Waters reopening to sport crabbing Oct. 7 at 8 a.m. include marine areas 4 (Neah Bay, east of the Bonilla-Tatoosh line), 5 (Sekiu), 6 (eastern Strait of Juan de Fuca), 7 (San Juan Islands), 8-1 (Deception Pass, Hope Island, and Skagit Bay), 8-2 (Port Susan and Port Gardiner), and 9 (Admiralty Inlet), except for waters south of a line from Olele Point to Foulweather Bluff.

In each area, crabbing will be allowed seven days a week through Dec. 31.

Sport crabbing will not reopen in marine areas 10 (Seattle Bremerton), 11 (Vashon Island), 12 (Hood Canal), and 13 (South Puget Sound).

The daily limit in Puget Sound is five Dungeness crab, males only, in hard shell condition with a minimum carapace width of 6 ¼ inches. Crabbers may also catch six red rock crab of either sex per day with a minimum carapace width of 5 inches. Additional information is available on WDFWs website at http://wdfw.wa.gov/fishing/shellfish/crab/.

All Dungeness crab caught in the late-season recreational fishery must be recorded immediately on winter catch record cards, which are valid through Dec. 31. Winter catch record cards are free to those with crab endorsements and are available at license vendors across the state.

Winter catch reports are due to WDFW by Feb.1, 2018. For more information on catch record cards, visit WDFW's website at http://wdfw.wa.gov/fishing/shellfish/crab/crc.html.
---
---