Fri., Sept. 1, 2017
Montana posts 2017 big-game hunting season prospects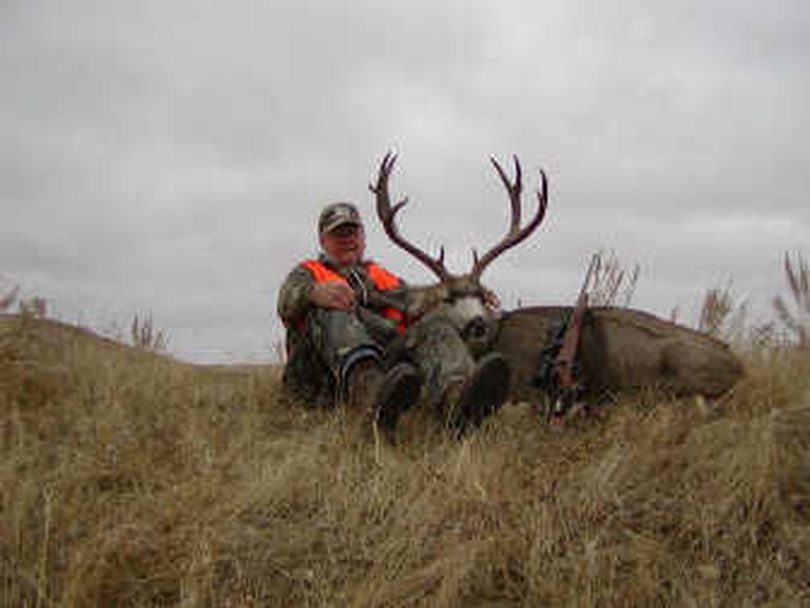 HUNTING -- Montana's 2017 big-game hunting forecast was posted this week by the state Fish, Wildlife and Parks Department. Here it is.
A key part of your hunting season preparation should be researching animal population trends and data from the past year. That's where we step in to help. The following big game forecast will give you some very valuable information for planning your hunt. But it's only a small piece of what Montana Fish, Wildlife and Parks offers Montana hunters.

On our website you can find information about hunting access, including our very popular Block Management Program, where we coordinate with landowners to provide hunting access to more than 7 million acres of private land.

Online we have our interactive Hunt Planner map that allows users to look at information for various species, including hunting districts and regulations. The hunt planner interactive map also is a great way to access our block management information, so if you're planning a hunt in a certain area, you can see if there are Block Management Areas available to expand your opportunity.

And, as always, you can contact our helpful staff at any of our regional offices around the state. They're happy to help and can often get you pointed in the right direction with just a few simple tips.

Montana is really an amazing state in which to hunt. We have some of the longest hunting seasons in the West, healthy herds of game and access to millions of acres of public land. However, hunters must be mindful of drought and fire danger. With the severe to exceptional drought extending across much of the state, hunters should be mindful of private landowners who are facing grass shortages, poor crop production and fatigue from monitoring for fire. Hunter harvest is helpful during a drought to reduce wildlife densities on a stressed landscape, and perhaps to help lessen winter depredation on hay stacks or winter range.

A few things hunters can do to show respect for private landowners during the drought include: avoid vehicle use in areas with dry grass in the median, use caution when parking in areas with dry vegetation, report smoke or any signs of fire to local officials, and carry a fire extinguisher or water to quickly snuff any potential fires.

Destination: SOUTHWEST MONTANA

It's referred to at times as the elk factory of Montana, and it's true elk numbers, in general, across southwest Montana are solid, bordering on great.

From the Pintler Mountains on the west side of the region to the Absaroka Beartooth, southwest Montana is defined by high mountain rugged country and an abundance of public land. Big game thrives here, particularly elk.

Though in general hunter success last year was about average, it wasn't helped by mild weather. Typically, elk hunter success during the general season improves dramatically with snow, which gets elk moving and makes them easier to track.

South of Butte - from Mount Haggin to the Big Hole Valley elk numbers are robust and consistent with last year's numbers, said FWP Region 3 wildlife biologist Vanna Boccadori.

South of Bozeman, elk numbers are also in good shape, with hunters seeing both good success in many hunting districts along with an abundance of access due to large amounts of public land. In several areas, like the Madison Valley, elk numbers remain above population objectives.

South of Helena elk numbers are also strong.

In the area around Townsend, hunters have run into access issues as elk have tended to congregate on private land in recent years, said FWP biologist Adam Grove. He suggests that hunters work on securing access to private lands early. Overall, elk numbers in the area are well over objective.

Around Helena, elk hunting is largely weather dependent, said FWP biologist Jenny Sika. If we get snow during hunting season, elk hunter success increases. If not, hunters have to work harder and success drops. But in general elk numbers are good throughout the area.

Several hunting districts in southwest Montana have elk shoulder seasons. These antlerless seasons are focused on private land and are typically outside of the general big game season. Hunters interested in shoulder seasons should make sure they read and understand the regulations. Each hunting district is different. And, as always, hunters must get permission to hunt private land.

In general, mule deer numbers are steady across southwest Montana. In some areas, like around Townsend, mule deer numbers are still on the rebound from recent lows. But in general numbers are stable or on the upswing.

White-tailed deer numbers continue to look solid across the region. However, much of the best white-tailed deer habitat is on private land – river bottoms or irrigated crop land.

For antelope in southwest Montana, the story is similar to deer. Numbers are stable or on the upswing. Antelope hunters this year can expect similar numbers to what they've seen the last couple of years.

Destination: NORTH CENTRAL MONTANA

When it comes to deer, elk and antelope, the outlook for north central Montana is good for the fall 2017 hunting season.

Milder winters the last couple of years and, depending on the species, fewer B licenses (those are licenses for either antlerless animals or doe/fawns) have allowed several species to increase their numbers and come close to management objectives.

"The last few years with milder winters we've had better fawn production and recruitment," said Cory Loecker, FWP wildlife biologist in Great Falls. "And we've restricted our B licenses."

Recruitment refers to when a young animal survives its first year and is added to the population.

Mule deer from the Rocky Mountain Front to east and south of Great Falls are at management objective or even above in a few spots.

"We're better than we were 20 years ago," said Brent Lonner, FWP wildlife biologist in Fairfield. "But that doesn't mean we are at the high population levels we saw in the 1970s and 1980s. I don't know if we'll ever get back there."

Lonner said those mule deer numbers from a generation ago were probably artificially high and unsustainable in the long run.

The current lone exception to the mule deer upswing is around Lewistown, where numbers lag by about a year.

For white-tailed deer, there are good numbers most everywhere in the north central part of the state.

However, prairie whitetails are closely associated with lands enrolled in the federal Conservation Reserve Program, or CRP, which pays landowners to remove environmentally sensitive land from agricultural production and plant species that will improve environmental health and quality.

As lands are removed from CRP that can hurt whitetails and other wildlife species.

Meanwhile, antelope are staging a comeback in the region.

Prairie pronghorn (antelope) numbers had declined for a couple of years, but population levels have returned to average with above average fawn production this year.

That bodes well for the future.

Again, the exception is the eastern part of the region, where antelope numbers are below objective. But the good news is better fawn production.

As for elk, the news is good, better, best. Throughout the north central Montana, elk numbers are at or above objective.

"There is no lack of elk," Lonner said. "The challenge is in the fall when hunters can't find them."

The problem then is often a lack of access, he said.

All this good news doesn't guarantee meat in the freezer for hunters this fall, but the ingredients to success are present.

Destination: SOUTH CENTRAL MONTANA

Mule deer numbers are stronger in the prairies and foothills of south central Montana are stronger than in the mountains. Overall numbers are nearly the same or slightly better than last year.

Along the face of the Beartooth Mountains and the western slopes of the Pryors, mule deer numbers remain quite low except for northwest of Red Lodge, where numbers are approaching the long-term average.

Mule deer northwest of Billings are at record numbers while, north of the Musselshell River to the Snowy Mountain foothills, they are similar to last year and increasing slowly. Northeast of Harlowton biologists counted fewer mule deer this past spring. Northwest of Harlowton last year's mule deer buck harvest was the highest in five years.

In the Boulder River drainage and in hunting districts north of Big Timber, mule deer numbers are mostly the same as last year and slightly above the long-term average. The number of bucks and the antlered-deer harvest in those districts remains low, however.

North and east of Billings, mule deer numbers and last years' harvest were slightly above average and similar to last year. The number of fawns is slightly below the long-term average.

White-tailed deer numbers appear to continue their rebound from the 2011 disease outbreak that drastically thinned the herds.

In the Boulder River drainage and hunting districts north of Big Timber, white-tailed deer hunters should expect an experience similar to last year as numbers are stable to slightly better than in 2016. In the Stillwater, Red Lodge Creek and East Rosebud areas, white-tailed deer numbers have recovered nicely with relatively high numbers of bucks.

Along the Musselshell River downstream from Shawmut and along Flatwillow Creek, white-tailed deer numbers have rebounded to levels seen before the 2011 outbreak.

North and east of Billings, white-tailed deer numbers continue to increase from the most recent disease outbreak with estimated populations the second largest in 35 years.

Elk numbers throughout south central Montana remain at record highs. Access to private land where many of the elk spend the hunting season is difficult. The number of elk are below objectives only in the upper Boulder River drainage, where much of the land is accessible.

Antelope densities south of the Yellowstone River southwest of Billings are below average. But, between the Yellowstone and Musselshell rivers, numbers are close to all-time highs. In all areas between Columbus and Harlowton, the number of antelope is stable and near the long-term average. Biologists reported seeing quite a few large antelope bucks during this summer's surveys.

North of the Musselshell River, antelope numbers have increased slightly from last year and are approaching the long-term average. Northwest of Roundup, antelope numbers increase some the further north one hunts.

East of Billings, antelope numbers are looking better north of the Yellowstone River while herds south of the Yellowstone continue to struggle. South of the river, buck/doe rations are lower than average and hunter success has been below average for the past two years. North of the river, antelope numbers – and fawns in particular – area the highest since 1989 and they continued to increase this summer.

Destination: NORTHWEST MONTANA

In the northwest corner of Montana, the story for 2017's hunting season was really started last winter with deep snowfall across much to the region.

The snowpack, in some areas, was exceptional making for low survival rates in some areas for elk calves and deer fawns.

For elk, calf recruitment was lower than in previous years and as such the number of antlerless licenses was reduced for the 2017 season. However, the impact of the hard winter didn't seem to be as dramatic as initially thought. Bull and cow ratios across the region remain stable.

Northwest Montana is unique white-tailed deer country. While most of the state is dominated by mule deer, that's not the case up here. White-tailed deer can be found from river bottoms and agriculture land to evergreen forests and high country.

However, fawn recruitment was impacted by the winter. That's the bad news. The good news is adult survival was good and if we see a normal winter this year, hunters won't notice a dip in deer numbers.

White-tailed deer numbers were most impacted in the north fork of the Flathead River.

Mule deer counts in the region remain at about their long-term average.

Destination: WESTERN MONTANA

Elk numbers in western Montana are robust. FWP wildlife biologists counted 26,226 elk this spring, the second-highest total in 53 years of annual aerial surveys. Numbers of bull elk in the surveys were notably strong, probably reflecting the light harvest last fall. Elk survey results, past and present, for every hunting district in FWP Region 2 are available online at http://fwp.mt.gov/regions/r2/wildlifeQuarterly.html (Region Two Wildlife Quarterly, Issue #8) and at Region 2 headquarters in Missoula.

Dry weather and fires in the region will contribute to more elk in irrigated crops on private land. Hunters hoping to participate in shoulder seasons this fall or winter should secure permission on private land now, and purchase an elk B-license now for private lands where B-licenses are valid. Hunting regulations are the same as last year; please read the regulations for your area carefully.

White-tailed deer numbers appear to be on an upward trend, owing to the past couple years of excellent fawn production and average-or-better winter survival. It seems that most does had twins, this year and last. Biologists noticed more good bucks in the velvet over the summer. Dry weather and fires in the region will tend to concentrate deer, like elk, in irrigated crops on private land even more than usual. Fresh burns could be good places to hunt if fall rains come and if a fall green-up occurs.

Opportunities to hunt mule deer are somewhat limited in western Montana. Many districts require the hunter to have obtained a permit or B-license through the statewide application process. Hunters with buck permits or hunters hunting in districts where a special permit is not required for a buck should plan to go high in the mountains to match their stamina with the biggest bucks. An emerging opportunity for hunters in Region 2 is to hunt mule deer on private lands, where numbers generally are growing. Again, pay close attention to the regulations to make sure you are properly licensed to hunt mule deer.

Antelope hunting is a minority sport in western Montana, where numbers have increased to about 400, following transplants by FWP to the Deer Lodge vicinity in the 1940s. Hunting is limited to a few hunters with permits obtained in the statewide drawing process. More information on Region 2 antelope is available online at http://fwp.mt.gov/regions/r2/wildlifeQuarterly.html (Region Two Wildlife Quarterly, Issue #7) and at Region 2 headquarters in Missoula.

Destination: SOUTHEAST MONTANA

The badlands, farmland and rolling prairie of southeast Montana is home to a vast number of animals, including rapidly rebounding populations of mule deer, near-average antelope numbers and a growing number of elk.

Mule deer in the region continue to be on a strong upward trajectory from their low point in 2012. Following back-to-back severe winters in 2009-10 and 2010-11, mule deer numbers bottomed out at 61 percent of long-term average. Spring 2017 surveys indicate populations are 45 percent above long-term average.

"In just five years, we've gone from extremely low to extremely high deer numbers," said FWP biologist Melissa Foster. "The age structure of the population continues to improve. Early in that recovery, the population was heavily skewed toward younger age classes; we had lots of yearlings, lots of 2-year-olds, but fewer mature deer. That's perfectly natural. It's a result of the boom in production following the population decline."

"With fewer mouths on the landscape, almost everyone enters winter in good body condition," Foster explained. "They're able to find winter browse and thermal cover, resources are essentially unlimited and fawn production and survival rates are extremely high."

Going into the 2017 hunting season, biologists expect that there still won't be many old deer on the landscape. Deer in the 6 to 8-year-old range would have survived as fawns or been born following the severe winters when fawn production and survival rates were low. Five-year-olds this year would have been born in 2012, a year with good fawn production but low numbers of deer. Numbers of 3 and 4-year-olds will be better, and there will once again be high numbers of yearlings and 2-year-olds.

"We have probably hit a high point for deer numbers," Foster said. "At 45 percent above the long-term average, habitat degradation is already beginning to occur. The drought this year means that deer will enter winter with fewer fat reserves than prior years. Huge numbers of mouths on the landscape means that it will be more difficult for deer to find good winter browse and thermal cover."

Habitat is important and high numbers of deer can have an effect.

"Deer can and do have the ability to eat themselves out of house and home," said John Ensign, FWP Region 7 wildlife manager. "When deer numbers are high like they are right now, they impact winter browse. As that browse component declines, so does the number of deer that the landscape can support."

"It's counterintuitive," said Foster. "But the best thing that we can do oftentimes to improve deer numbers is to harvest more deer."

Good harvests can mean better deer health through the winter and into spring because the habitat can better handle the pressure.

"The antlerless mule deer quota this year was increased to 11,000, which means there's plenty of opportunity for hunters to fill their freezers while helping to maintain herd health," Ensign said.

Whitetail numbers have held steady in southeast Montana. Epizootic Hemorrhagic Disease (EHD) outbreaks have been localized in scale and small in magnitude since 2012. Local hunters will recall the last major EHD outbreak in 2011, which caused heavy mortality in whitetails throughout many parts of Region 7.

"We are at a good place right now with whitetail numbers," Ensign said. "As deer densities increase, the risk of major EHD outbreaks increases. The disease is transmitted by a biting midge. When you get deer in close proximity, it's an ideal situation for disease transmission.

"It's impossible to stockpile wildlife, including whitetails," he said. "Whether in the form of disease, drought or harsh winters, Mother Nature always intervenes."

Hunters who do their homework by scouting and visiting with private landowners should have success locating good areas to hunt whitetails.

Montana antelope populations are for the most part continuing to recover and grow from previous years' winter kills and low fawn numbers in central and eastern Montana.

Summer production surveys indicate that southeast Montana antelope numbers have increased 74 percent from the low in 2012, and are now hovering near the region-wide long-term average.

The total count across the region is slightly below last year. Antelope numbers in the northeastern portion of the region are near long-term average. Populations north of Hysham and Forsyth are still somewhat depressed. Individuals who know that area and typically hunt it may still find success there, but groups looking to harvest does may do better to focus their efforts in the southeastern portion.

In the western portion of the region, antelope numbers have improved since 2012 but remain well below historic averages. Antelope numbers are best in the southern portion of the region.

This year, just like last, FWP is offering more licenses than in the previous few years, which reflects the improving population.

These are good times for elk hunters, as Montana elk populations continue to be strong across most of the state. In many hunting districts, however, access to private lands can be difficult, which can affect hunting success given landownership patterns and distribution of elk.

Even if you didn't draw a special permit this year, remember that Montana offers numerous opportunities to hunt for elk with just a general hunting license.

The most recent winter surveys indicated that elk in southeast Montana are continuing moderate growth and gradual expansion into unoccupied available habitat. FWP biologists observed strong calf recruitment (52 per 100 cows) and an excellent composition of bulls (40 per 100 cows).

The Missouri Breaks (hunting district 700) and Custer Forest Elk Management Unit (HDs 702, 704, 705) remain the two "core" elk populations. Outside of these areas, elk numbers across the region are low, distribution is spotty and elk are primarily found on private land where public hunting access is limited.

Bull hunting is by permit only in HDs 700, 702, 704, 705 and the far western portion of 701. In HD 703 and in the rest of 701, hunters can pursue either-sex elk with a general license.

New starting in the 2016 hunting season is the 007-00 B license. This license is valid for antlerless elk throughout Region 7 except for the Charles M. Russell National Wildlife Refuge and the Custer National Forest. An easy way for hunters to remember where they can use the 007-00 antlerless elk license is that it's valid everywhere expect what is green on a Bureau of Land Management ownership map (green being national forest or federal wildlife refuge areas). It is important for hunters to note that there are no elk shoulder seasons in any of the hunting districts in Region 7.

Additional antlerless opportunities exist in the region via a general and/or B-license, and hunters are encouraged to review the regulations for more details on those opportunities.​

Hunters should be aware that the Lodgepole Complex fire burned over 225,000 acres in the western portion of HD 700 (and 45,000 acres in HD 701). Much of the area that burned in HD 700 was timbered elk habitat; however, roughly two-thirds of the elk habitat in HD 700 was not burned (the northern boundary of the fire was near Squaw Creek). Further, within the burn perimeter there is a mosaic of small pockets that were not burned, and areas where the fire did not reach the crowns of the pines. Pending additional moisture and some cool-season grass regeneration, hunters might still have success finding elk within the burn perimeter.

Destination: NORTHEAST MONTANA

Mule deer populations are still on a steady increase across the region but vary depending on the hunting district. Generally speaking, the mule deer are above long-term averages. Areas of note are north of Havre, where mule deer numbers are well above average and in the Charles M. Russell Wildlife Refuge, north of the Missouri, where mule deer numbers are below average.

White-tailed deer are on the increase across the region, but still just below average. Populations in the eastern part of the region in more of the prairie/cropland habitats are doing better than populations along the Milk and Missouri Rivers. Although whitetails are recovering in recent years, still expect lower deer numbers in areas along those rivers.

In the northeast corner of the state, decline in CRP and habitat changes are moving deer around and may not be in traditional areas.

Elk hunting opportunities in most areas in Region 6 are limited to licenses/permits awarded through special drawings. Those hunting districts where elk hunting is allowed on a general license are mostly areas with smaller elk populations and very limited elk hunting opportunity.

Regionwide, the weather conditions the past several years have been favorable for elk with milder winters and good spring precipitation, although 2017 has been hotter and drier. Elk populations in the region continue to fair well and have been increasing. Elk numbers are above average across the region.

Elk shoulder seasons will occur in northeast Montana from Dec. 15-31. Hunters interested in participating in this hunting season will have had to already drawn a shoulder season license (License 696-00 or 699-00) to hunt during this shoulder season. General season elk licenses are not valid during the elk shoulder season in FWP Region 6. The Missouri Breaks shoulder season license (699-00) is not valid on the CMR Refuge.

Make sure you're familiar with the regulations for the area you plan on hunting.

In general, antelope populations are stable to increasing across the region, but in most cases still remain below long-term averages. Antelope licenses are distributed through the drawing system. Major reductions in licenses were seen following the winter of 2010-11, however some increase in licenses have been seen since that time. Those who have drawn licenses should have a very good opportunity to harvest an antelope.

Fire danger is higher throughout the region so please be careful while hunting and camping and avoid driving or parking in taller vegetation. Please also check all local fire restrictions prior to hunting.
---
---