Mon., Sept. 11, 2017
Hanford Reach fall chinook bite slowly improving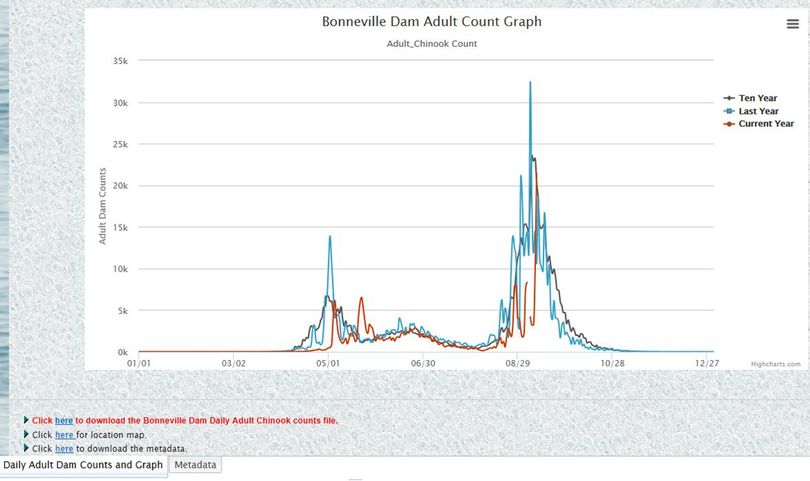 FISHING -- Columbia River anglers fishing for fall chinook in the Hanford Reach upstream from the Tri Cities have had lots of elbow room and low rates of success so far this season. But numbers from last week indicate the tide is changing.
"Fishing continues to be very slow but did show some slight improvement," said Paul Hoffarth, Washington Department of Fish and Wildlife fisheries biologist in his weekly report posted today.
WDFW staff interviewed 262 anglers from 126 boats plus 16 bank anglers at the Ringold access area. Those anglers had harvested 13 adult chinook and 2 jacks.
"Based on the information collected, an estimated 48 adult chinook and 7 jacks were harvested this past week from 927 angler trips," Hoffarth said.
Creel surveys through Sept. 10 found 105 adult fall chinook and 10 chinook jacks have been harvested in the Hanford Reach from 2,105 angler trips, he said.
Effort and harvest has been much lower this year compared with 2016, Hoffarth said.
Bonneville Dam fish counts jumped to more than 22,500 adult chinook on Sunday.
McNary Dam counts picked up over the weekend as well, with1,160 adult chinook on Saturday, 2,109 on Sunday.
An in-season run estimate for Hanford Reach fall chinook will be calculated on Sept. 15.
Steelhead counts have bicked up some to 1,588 on Sunday, but are still running less than 50 percent of the 10-year average.
---
---