Hanford Reach chinook fishing improves to 1.3 salmon per boat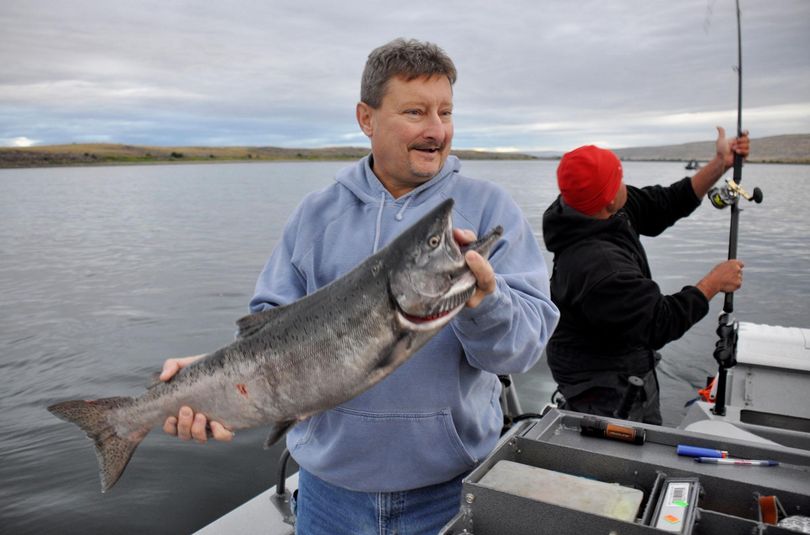 FISHING -- The fishing wasn't red hot, but anglers averaged 22 hours per chinook for 1.3 salmon per boat on the Hanford Reach of the Columbia River last week.
Fishing pressure was up from the previous week and catch rates were slightly higher, according to survey results provided by Paul Hoffarth, Washington Department of Fish and Wildlife area fisheries biologist. Overall, however, fishing pressure and catch rates have been lower than last year.
Reel Time Fishing guide Toby Wyatt reported this afternoon that fishing success picked up today, with five chinook into his boat in short order. Wyatt says this week will be the peak of the season for catching nice kings.
Hoffarth estimated 1,616 adult chinook and 203 jacks were harvested last week from 6,016 angler trips.
That compares with 187 adult chinook and 14 jacks harvested from 2,410 angler trips in the week ending Sept. 17.
Overall through Sept. 24, Hoffarth estimates 1,923 adult fall chinook and 203 chinook jacks have been harvested in the Hanford Reach from 10,887 angler trips this season.
The run of chinook over McNary Dam and upstream into the Hanford Reach typically peaks around the third to fourth week of September.
A lot of fish can still be caught.
"A Hanford Reach in-season adult fall chinook update was completed on Sept. 23 that estimates a natural origin return of 46,042," Hoffarth said. "This would allow a harvest of roughly 10,000 adults and still meet escapement goals for the Reach."
---
---