Zinke says 30 percent of Interior staff 'not loyal to the flag'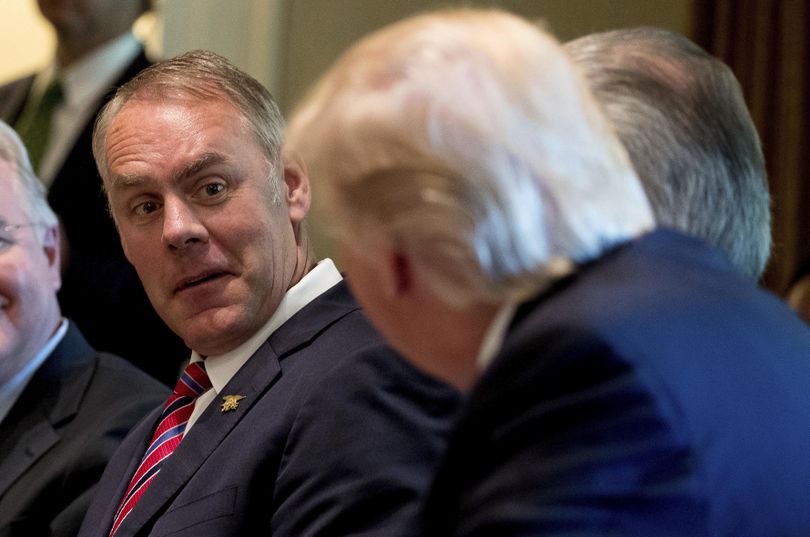 PUBLIC LANDS -- With all the flag waving debate going on this week, Interior Secretary Ryan Zinke got into the act Monday by saying 30 percent of his federal department are disloyal to the country.
The debate that will follow that statement before a federal advisory board dominated by oil and gas industry executives will likely frame around whether federal scientists should be loyal to their science or loyal to the political roller coaster of appointed officials.
The Washington Post reports that Zinke has promised "huge" changes.
Here's the basic info from the Associated Press:
WASHINGTON – Interior Secretary Ryan Zinke walked into a big gathering of the National Petroleum Council on Monday already facing at least two government probes for his management of the department's workforce of 70,000 – but that didn't stop him from bashing his employees.

Zinke told the gathering that he figured upon taking his post that nearly a third of the people at the department were disloyal. The comment may have shed light on the secretary's reasons for directing department officials to reassign approximately 50 top managers in June, as soon as the move may have been legally permissible.

Several of the managers interviewed by the Los Angeles Times/Tribune Washington Bureau said they were puzzled by the directives, which sent them to corners of the agency where they had no expertise. At least one has filed a whistleblower lawsuit.

The department is declining to comment on the specific charges leveled against Zinke. But the secretary had plenty to say about what he thinks of the workforce during his talk before the oil trade group in Washington.

He said he knew when he took over the department in March that "I got 30 percent of the crew that's not loyal to the flag," according to a report by The Associated Press. He compared the department to a pirate ship that captures "a prized ship at sea, and only the captain and the first mate row over" to finish the mission.

Walter Shaub, who in July resigned his post running the federal Office of Government Ethics following repeated clashes with the Trump administration, tweeted that Zinke is misguided about what loyalty means.

"Feds are loyal to America, not junior cabinet secretaries and politicians," he wrote.

Some senior civil servants have charged that Zinke's moves were intended to drive experienced managers from federal employment. If that was the motive, Zinke succeeded in some cases.

But the reassignments also landed the department in a high-profile whistleblower lawsuit, filed by Joel Clement, the department's director of policy analysis who had been leading some its highest-profile climate change work. Clement was plucked from his work helping Alaskan villages imperiled by rising seas and placed in a post overseeing the auditing of oil and gas leases.
---
---