Mon., Dec. 7, 2009
A chance to shine as local skaters set to perform opening ceremonies at U.S. Figure Skating Championships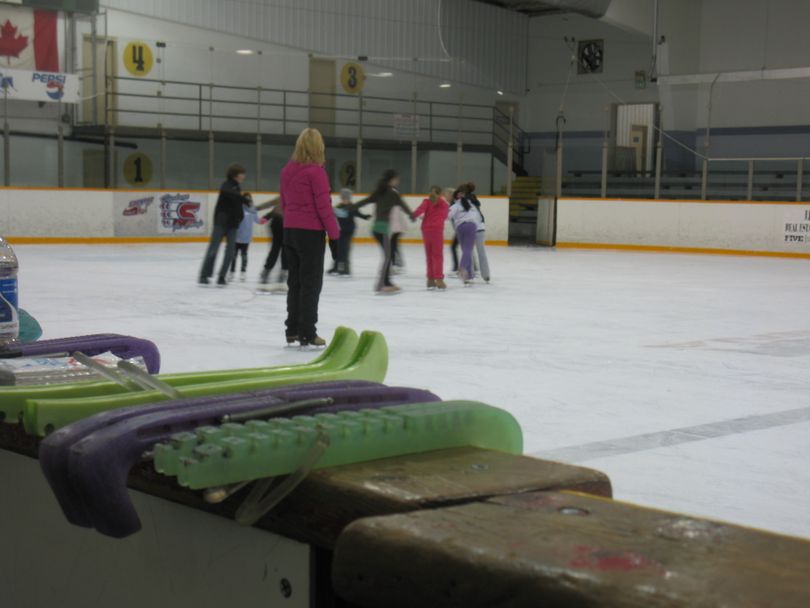 It's 6 a.m. on a Monday morning in a so-cold-it-will-make-you-shiver ice rink in Spokane, yet the troupe of about 40 youthful figure skaters are all smiles as they parade around the ice-covered oval. Apparently the best way to get a kid out of bed on a weekday involves just two phrases: U.S. Figure Skating Championships and opening ceremonies.
At least that's the case for the armada of winter weather-clad kids donning skates and smiles during an early-morning practice at Eagles Ice Arena. The group, representing the three local figure skating clubs in the area (Lilac City, Inland Northwest and Spokane), will be performing in the opening ceremonies of January's 2010 U.S. Figure Skating Championships.
"This is huge, it's a real privilege," says Tera Caldera, an assistant choreographer for the skating routine.
"It's a once-in-a-lifetime thing," adds head choreographer Tonya West. "They probably won't get this opportunity again."
This, however, isn't the first time local youth skaters have warmed up the ice before the nationally televised competitions officially begin. Kids from around the Inland Northwest's various skating programs also opened the 2003 Skate America and 2007 U.S. Figure Skating events. The partnership with the skating competitions came about with the help of dozens of volunteers as a way to showcase the area talent and as a way to get the kids closer to the action, says Diana West, co-chair of the opening ceremony skaters and sweepers programs and a volunteer who helped put together opening ceremonies for the 2003 and 2007 events.
"Spokane really supported figure skating two years ago. It was phenomenal, so they couldn't wait to get back here," she offers. "Spokane is very fortunate and we just hope it can be as successful as it was in 2007."
As for the local skater's involvement, she adds that each past event helped promote skating sports for kids of all ages. "It's just the whole part of being involved with something on a national level. That's what this does is encourage kids to skate," Diana West says. "When it gets to the point where they can say 'I was in the opening ceremonies,' that is something they can take with them the rest of their lives."
The skaters at Eagles Ice Arena, who range in age from about eight years old to high school students and across the skating spectrum from novice to more advanced, are taking part in an opening extravaganza featuring an army of pint-sized and taller athletes. The group's routine, which they've been rehearsing for more than a month now, will consist of a trio of songs with some pairs skating, some individual skating, and a lot of synchronized moves.
For the kids involved, many of them cited as motivation a chance to perform in front of a large crowd. Of course, getting to meet their favorite professional skaters in person was also an opportunity they couldn't pass up.
"I've always wanted to do figure skating since I was, like, five years old. It's like an art and it's a sport, but it's stress-free and you don't have to worry about it," says Kayla Zurosky, 13, in talking about her love of figure skating. As for the upcoming performance, she adds "It's exciting and I think it's a good opportunity."
"I think it's great," says 12-year-old figure skater Emma Vichinsky, as she took a brief water break during practice. "It's like a once-in-a-lifetime opportunity."
---
---