Fri., April 29, 2016, 12:10 p.m.
Behind the lens: Covering two shootings during a chaotic night
News happens, but last night was kind of crazy. I was sitting in a McDonalds working images from a track meet I had just photographed when S-R reporter Eli Francovich called to tell me the Spokane County Sheriff's dive team was searching the Spokane River for a person who had jumped off the suspension bridge in Riverfront Park. I quickly packed up and drove to the north end of the Monroe Street Bridge. As I was just about to get out of my car, reports of a shooting inside a Wells Fargo Bank came in, so off I went to cover that story instead.
Arriving at the scene at Division Street and Cozza Avenue, it looked like the entire Spokane Police Department had gathered to search for a man who had shot a customer during a robbery. Telephoto lenses really help in these situations and I had one of the best—a Nikon 200-400mm f/4— that I had used an hour earlier at the track meet. I grabbed it out of my trunk and quickly made as many scene photos as I could. I've learned over the years that visuals at spot news events diminish quickly with time.
About a block away, I spotted a S.W.A.T. team searching the area with a police dog. With my long lens, I made a decent photograph. I went back to my car, set up my laptop and transmitted the photos back to the newspaper so the website would have visuals to go with the developing story.
Then the tempo of the scene changed quickly. Police started rushing to their cars and tearing out of the bank parking lot running full lights and sirens. I figured they had found the bank robber, so I gave chase down Division Street. It turned out there had been officer-involved shooting outside the House of Charity. A homeless man was shot by two officers after he refused to drop a knife. The scene was chaotic, with a dozen or more officers trying to calm an angry crowd of homeless people who were upset that one of their own had been shot by police. The light was falling fast. I had the 200-400 mm lens with me and made my way down an alley where I came upon this scene.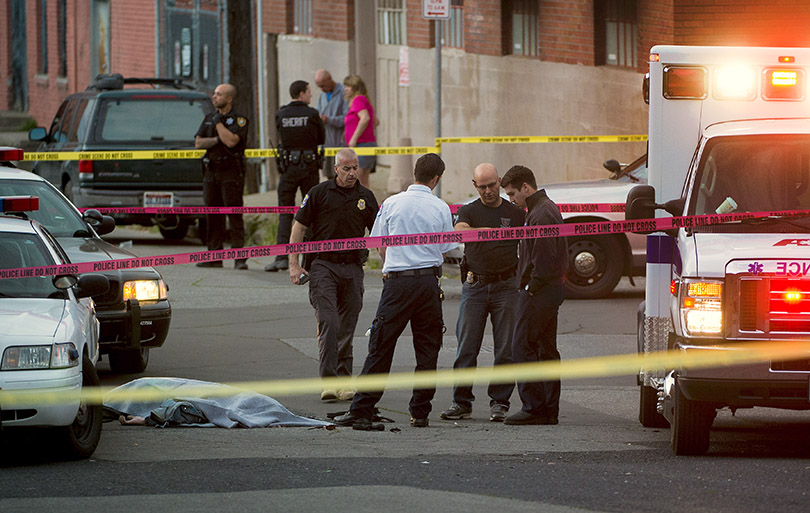 I quickly made photographs of the covered body with emergency personnel standing nearby. The one striking visual that made the scene real for me was the one hand showing from under the blanket covering the body.
Leaving the scene, I ran into a man who witnessed the shooting. I did a quick video interview and headed back to my car. Once again, I edited my photos on my laptop and sent the best image back to the newspaper. I also edited the video interview in Final Cut Pro X and uploaded it to the paper's Vimeo account where it was embedded into the online story.
---
---