Sat., Sept. 14, 2013
Is a lightweight RV right for you?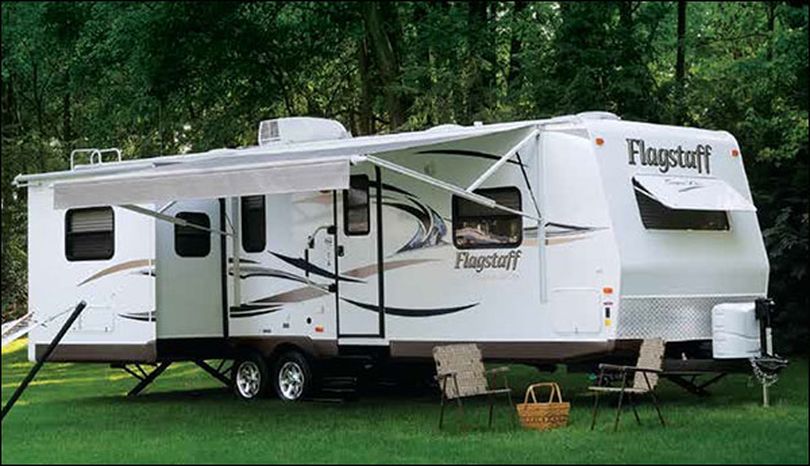 There's a new buzzword in the RV trade. Seems like half the trailers, campers and fifth-wheels one sees these days are emblazoned with a logo bearing some -- usually misspelled -- version of the word "light."
Super Lite! Ultra Lite! Ever Lite!
Like every buzzword, this one must be taken with a grain of salt, says Jerry Wagner, general manger at Spokane's R&R RVs.
"Every brand in the industry claims they have a light or ultra-light product," Wagner warns, "but they use that term pretty loosely."
The benefits of weight reduction are obvious. A 30-foot travel trailer built using lightweight materials and construction techniques can weigh hundred of pounds less than a conventional trailer.
There are savings at the gas pump -- towing a lightweight may reduce fuel consumption by a mile per gallon, Wagner says -- but equally important is the impact of weight loss on the tow vehicle.
"If you're towing less weight, there's less strain on the tow vehicle, on the drive train and brakes, especially," Wagner notes. "Over time, any extra weight takes a toll on the vehicle."
But, despite their virtues, not all lightweight towables are built equally. "Normally, 'lightweight' means there's more aluminum in the frame structure," Wagner says, "but some manufacturers use that as a big tease."
Some cut corners using lightweight but substandard materials; others simply make less extensive use of aluminum.
For years, most RVs had a wood frame to which aluminum sidewalls were attached. More recently, the advent of fiberglass and modern composites enabled another style of construction from which the lightweight segment emerged.
In this new style of construction, several layers of materials are laminated or vacuum-bonded into a single piece, which is joined to a frame made either of wood or aluminum.
The more aluminum, the greater the weight savings.
Some makers use aluminum only in the segments of the structure to which the sidewalls are attached, while using wood trusses for the floors, roofs and end caps.
Besides its vulnerability to moisture, "There's nothing wrong with wood," Wagner says. Indeed, some manufacturers pride themselves in the quality of their wood-frame construction.
There are those who worry that lightweight construction techniques produce less durable trailers. But Wagner says lightweights built by reputable firms are as durable as those that use traditional methods. However, some manufacturers use the lightweight banner as a reason to cut corners.
Like sidewalls, floors are built in layers. To attain weight savings, some makers substitute chip board or plywood for a sturdier, more rigid material.
"You can walk into some ultra-light trailers and the floor feels bouncy and springy," Wagner says.
Manufacturers also tout other weight-saving techniques and materials, including such items as tankless "instant-heat" hot water systems and European-style window assemblies.
Each offers benefits, says Wagner, but not without attendant downsides. Plastic European windows weigh less than conventional glass windows, but are easily scratched during cleaning.
Water from conventional storage-tank systems is hotter than the water from tankless system. Moreover, tankless systems can be powered only by electricity, while conventional systems can run on either propane or electricity.
Finally, says Wagner, the choice to go lightweight or go traditional is a personal one.
Buyers should educate themselves about the techniques and materials -- or mix of them -- that were used in the construction of any trailer they're considering, he says. He urges buyer to "slow down and really look at the method of construction. Reputable manufacturers will include that information in the brochures and websites."
Don Adair is a Spokane-based freelance writer. Contact him at don@dadair.com.
---
---