Thu., Aug. 6, 2009
Rolling Stone profiles jail suicide victim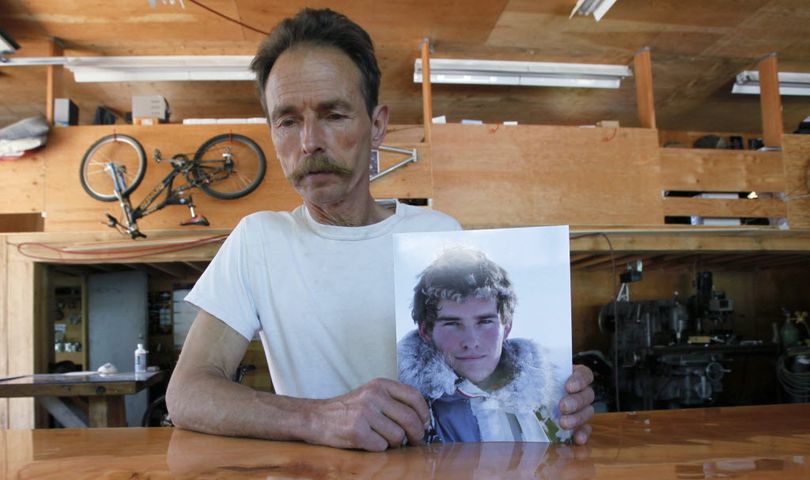 He was known in Nelson, B.C, as the Man from the Bush - a thrill seeker who became a legend in the world of extreme mountain biking while still a teenager.
But Sam Brown's young life ended tragically in the Spokane County Jail five months ago, when he was found hanged with a bed sheet. (His father, Lou Brown, is holding his picture in the AP photo posted above.)
Days earlier, DEA agents had busted him in the Colville National Forest with a helicopter packed with weed. They'd already arrested the men he was to meet with cocaine in Utah.
It wasn't Brown's first run, as an article in the current issue of Rolling Stone explains. After his arrest, the 24-year-old told public defenders, "It's all about the adventure," according to the Rolling Stone article.
The seven-page story, written by Jesse Hyde of Salt Lake City, is an in-depth profile of the jail's most recent suicide victim. It includes interviews with Brown's family and friends and explores his relationship with two women, including Lucretia James, who was busted in March 2008 transporting 74 kilos of cocaine on a California highway.
U.S Attorney James McDevitt, who hadn't seen the article when I spoke with him earlier this week, described Brown's death as "tragic."
McDevitt recalled seeing Brown during his first court appearance - a nice-looking young man who could have made something out of life.
While the charges against Brown carried a 10-year prison term, "if he cooperated with us, I have the ability to determine what his sentence will be," McDevitt said.
But as the article touches on, Brown could have faced retaliation and threats we'll never know about.
Or, as one friend told Rolling Stone, even one day in jail may have been too much for him. I can't find the article on Rolling Stone's Web site, but it's available on newsstands.
Also, Associated Press writer Gene Johnson wrote an article on drug smuggling that discusses the Brown case. Read it here.
---
---