Thu., Aug. 27, 2009
Do you recognize this man?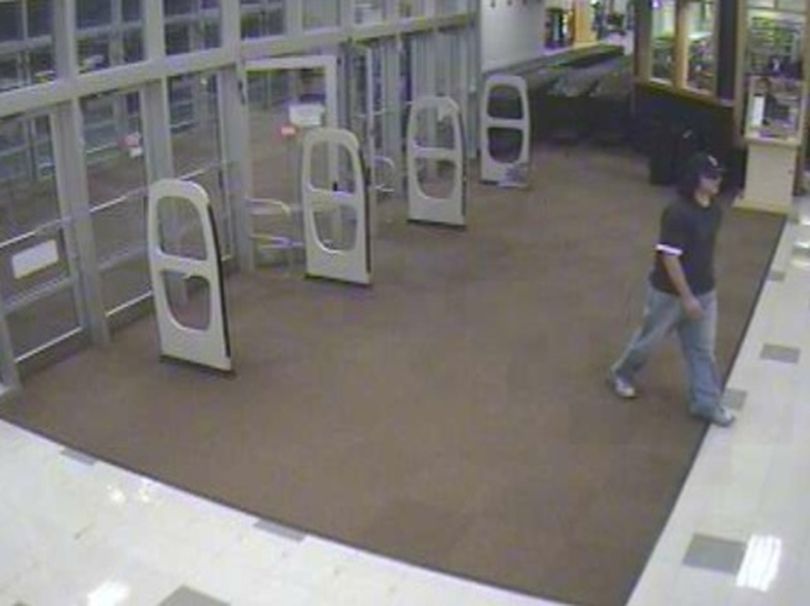 The company that makes OxyContin is offering a $1,000 reward for information that solves a Spokane pharmacy robbery Sunday.
A man in his 20s with dark stubble and possibly a black wig walked into Shopko, 4515 S. Regal Street, at 9:42 p.m. and handed the pharmacist a note demanding OxyContin.
He left with the note and an undisclosed amount of the drug, police said. Surveillance photos show the robber wore sunglasses, a black t-shirt, blue jeans, white sneakers and a dark baseball hat with a white logo.
No weapon was displayed, according to police. Witnesses described the robber as a white man in his 20s, about 6-foot-3. Purdue Pharma is offering the reward through Crime Stoppers. Anyone with information is asked to call Crime Stoppers at (800) 222-TIPS, or submit tips online at www.crimestoppersinlandnorthwest.org.
Tipsters do not have to leave a name but should provide a code name or number.
Based in Stamford, Conn., Purdue Pharma introduced OxyContin, a powerful pain killer, to the prescription drug market in 1996 and has come under scrutiny for lying about its addictiveness.
In 2003, the company created a program, RxPatrol, to help police and pharmacies track prescription drug robberies.
---
---