Wed., Dec. 16, 2009
Canadian gangster faces 30 years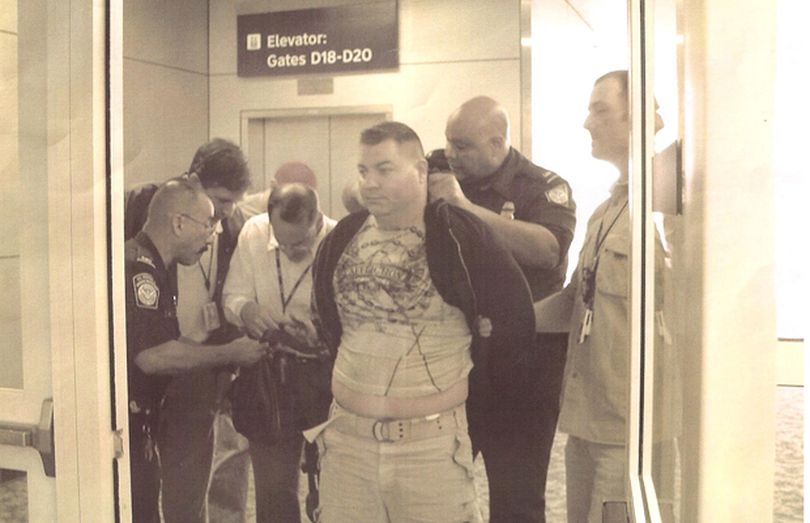 A Canadian gangster connected to a drug bust that led to a young man's suicide in the Spokane County Jail is to be sentenced today in U.S. District Court in Seattle.
Clay Roueche (ROOSH') faces about 30 years in prison for federal drug conspiracy and trafficking charges.
Roueche is the founder of the United Nations gang in Vancouver, B.C., and has been described by federal prosecutors as "worldly and charismatic" but "remorseless" and "extraordinarily dangerous."
The UN gang is believed to be responsible for a drug ring that used a network of helicopters, planes, semi-trucks and other methods to move many tons of marijuana and cocaine and millions of dollars through Canada, the U.S. and Mexico.
When taken into custody by U.S. agents in Texas in May 2008 (pictured above), Roueche reportedly was wearing a ring worth $125,000.
Prosecutors are recommending he serve at least 30 years in prison. Roueche's attorney says there's no evidence he engaged in the violence, including targeted killings, that the UN has been blamed for, according to the Associated Press. He suggests a sentence of 15 to 20 years.
Court documents link Roueche to Joseph P. Curry, who is named as a suspect in the Operation Blade Runner federal drug bust that included arrests in Eastern Washington and North Idaho. (Curry was arrested by federal agents with 68 pounds of Ecstasy in Eastern Washington in 2007 but posted bail and never returned, according to court documents.)
Curry and Roueche were photographed together at the funeral of a UN gang member who was killed in a drug-related shooting in Canada, according to federal court documents.
One defendant in the Blade Runner case cited a murder kit found at Roueche's home when explaining why she wanted her court file sealed.
Another defendant in the case, Samuel Jackson Lindsay-Brown, 24, killed himself in jail Feb. 27 after being arrested with a helicopter filled with marijuana he was to exchange to two men for cocaine. (Read more here.)
One of those men, Leonard J. Ferris, was sentenced to six years in federal prison during a closed proceeding Dec. 2.
---
---