Mon., June 1, 2009
Spokane Fire Department honors citizen heroes
Eleven citizens received life-saving awards from the Spokane Fire Department Saturday. The annual awards ceremony also honored retirements and promotions.
Honored citizens include a 20-year-old man who saved a man from a burning van in January, a 9-year-old girl who rescued her sister from a swimming pool, and three Shaw Middle School teachers who saved a colleague.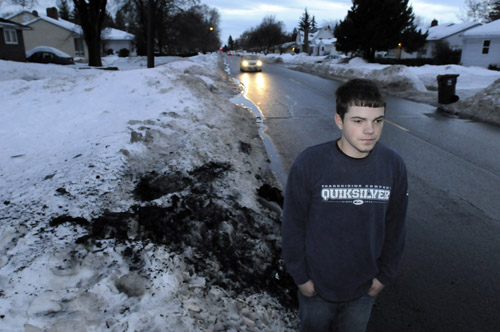 Joshua Myers (left) smashed the van's window with a shovel, unlocked the driver's door and pulled him to safety. Police hailed him a hero in a story you can read here.
Carol Parks and John Page saved a man they saw go unconscious at his desk and slump to the floor. "Because of their concern for a fellow citizen and their willingness and ability to perform CPR, there is no doubt that their actions are directly responsible for Mr. Downs being alive today," according to the Fire Department.
"Their actions reflect greatly upon themselves and their community."
Teachers Frankie Ghee, Dave Paulson and Jessica Gaddy took turns performing CPR on a man in cardiac arrest at Shaw Middle School in September.
"They were co-workers and personal friends of the victim. The resuscitation efforts on scene were intensive including needing to defibrillate the patient 7 times," according to the Fire Department. "These three individuals remained on scene throughout the incident and assisted the crew. The patient survived and was taken to Holy Family Hospital where he was stabilized and taken to Deaconess for further cardiac care."
Nine-year-old Amanda Fjermestad saved her 3-year-old sister's life last August. She found the girl face down in a swimming pool and jumped in with her clothes on, pulling the girl to safety. "CPR was started prior to the Fire Department's arrival and her sister was successfully revived," according to a news release.
Suncrest resident Dan Jones and off-duty Spokane police Officer Daniel Lesser were at their daughters' indoor soccer practice in January when a woman said her father was having a heart attack. The two went to parking lot and performed CPR while instructing onlookers to call 911 and police dispatch.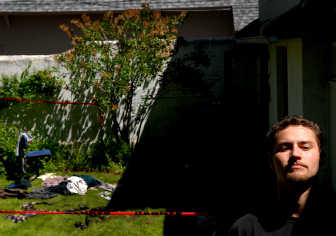 Ross Boatsman (right) and Greg Mechals saved a man from a burning apartment last June. Boatsman and Mechals, his uncle, risked their lives pulled the man to safety and performing CPR in a story you can read here.
Two firefighters received the distinguished conduct award for their work involving a horse trailer accident near Division and Ermina in October.
A horse had fallen in the trailer and several people were trying to get it back up when Andrea Kernkamp and DJ Hill arrived. The two safely removed the horse from the trailer and helped transport it to an animal clinic.
"Hill and Kernkamp's professionalism and compassion during this incident led to a successful conclusion and represented the Spokane Fire Department in the most positive and much appreciated way," according to Fire Department.
The department's Medal of Valor and Purple Heart awards went to Shawn Poole, who was injured after he fell through a floor while battling a massive fire at the Joel building in downtown Spokane July 24.
Poole is serving with the Army in Iraq. His wife, Teresa, and other family members accepted the award on his behalf.
---
---