Church of Satan responds to Schertz article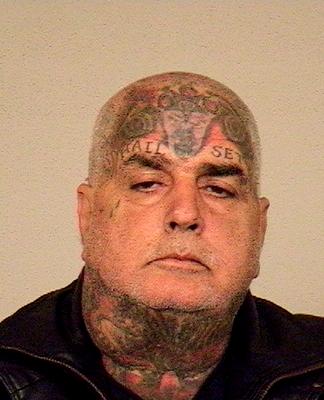 The Church of Satan has responded to this story about level 3 sex offender Danny Walter Schertz, who recently moved to Spokane Valley from San Antonio.
Schertz, 61, is described as an avowed devil worshiper in a 1995 Los Angeles Times article, and photos from the Texas Sex Offender Registry show he added devil-related tattoos to his forehead within the last year and a half.
A spokesperson for The Church of Satan who identifies herself as Magistra Ygraine emailed The Spokesman-Review today to say that Mr. Schertz is "not now, nor has he ever been a member of our church, nor a Satanist."
The phrase tattooed on Schertz's forehead, Hail Set, is from another Satan-worshiping organization called The Temple of Set that broke off from the Church of Satan in the 1970s.
Writes Magistra Ygraine, "I would be most grateful if you would clarify the point as soon as possible. You'll note that The Church of Satan is firmly on the side of law and order and in fact is well known for reporting law breakers, even among it's membership, directly to the authorities. Our history of supporting law enforcement is well established and our religious demand to never hurt children or animals is equally well documented."
Today's article makes no mention of what church Schertz is affiliated with, but Ygraine's point is interesting nonetheless.
Schertz has also contacted the newspaper regarding the article. While he declined to discuss his criminal record when contacted last week, he said today's article gave the false impression that he's a violent person who hurts children.
The criminal record detailed in the article is correct, but Schertz offered explanations for many of the situations. The latest incident, the kidnapping conviction from 1996, stemmed from when he worked with two boa constrictors on Bourbon Street in New Orleans and earned a living by charging tourists for photos with him, he said.
That's where he said he first met the girl he was convicted of kidnapping, who he said wanted to go with him on the road.
"I ain't hurt a kid in my life," Schertz said. He emphasized what the article said: he checked in regularly with San Antonio authorities, who said they never had a problem with him.
"I'm getting a lot of flack here," Schertz said. "I'm just here to be with my daughter."
Schertz said he'll be reclassified as a level 2 sex offender once he finds a permanent home. The Spokesman-Review will write another story if that happens.
---
---