Fri., May 22, 2009
Courthouse watch: 5.22.09

Friday is always a full day on the Spokane County Superior Court docket, and today brought a cornucopia of crimes from organized retail theft and forgery to assault and child rape.

Suspects on today's docket included a man accused of trying to escape from police by jumping into Latah Creek, a firefighter on leave after being arrested for leading state troopers on a chase with his son and a teenager charged with arson over an apartment fire court papers show may have been triggered by derogatory comments about homosexuals.
Paul J. Reinhardt, 40, was arrested in February on the banks of Latah Creek after allegedly fleeing from officers trying to arrest him on a warrant for domestic violence (photo, left, by the SR's Colin Mulvany).
A railroad crew pointed him out to police, according to news archives.
Reinhardt is now charged with attempting to elude police, unlawful imprisonment and violation of an order. He remains in Spokane County Jail.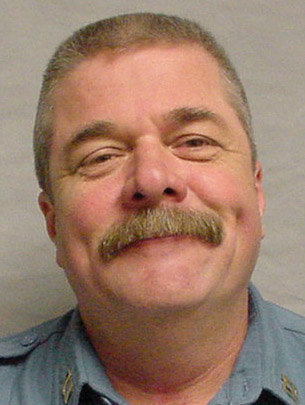 Ronald Clinger (right) is on unpaid leave from his $102,737-a-year captain's job with the Spokane Fire Department, accused of speeding away from police after one of his sons allegedly stabbed a man during a fight at the Prime Tyme Restaurant and Lounge in Chattaroy in November.
Clinger is charged with felony attempt to elude police, plus misdemeanor charges of drunken driving and rendering criminal assistance. He's free on bond.
Daniel Lambrix is charged with first-degree arson, accused of setting an Oct. 6 fire at 2307 W. Dean Ave. while three other tenants were inside. Lambrix was in the middle of moving out, according to court papers. Lambrix's boyfriend told police the landlord had used derogatory comments against homosexuals towards he and Lambrix, papers show.
Lambrix was arrested a month after the fire and told investigators he was angry with the landlord, so he lit the contents of a box of garbage with a lighter in the kitchen.
"Lambrix stated that at the time of his setting the fire, he did know that the downstairs tenant and his daughter were in the apartment," according to a statement by Spokane fire Capt. Kevin Smathers. But, Smathers continued, "he did not start the fire with the intent of hurting anyone."
Lambrix remains in jail.
Clinger, Reinhardt and Lambrix each had pre-trial conferences today before Judge Ellen Kalama Clark. Trial dates are upcoming.
---
---