Police may have suspect in ATM thefts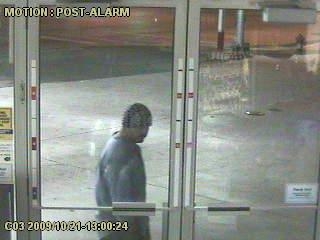 A man arrested on drug charges is suspected of an attempted ATM burglary two days after he posted bail. George W. Butrick, 31, (left, allegedly) was arrested again Wednesday after police identified him as a suspect in an incident Oct. 21 at the Conoco at 3125 E. Mission.
Authorities have said the more than a dozen similar thefts and attempted thefts are likely linked, but Butrick has only been named as a suspect in one.
Surveillance video captured images of a man police think was Butrick before he smashed the Conoco store's front window and fled. He had been arrested Oct. 19 on drug charges and one count of unlawful possession of a gun but posted $7,500 bail.
He was back in Spokane County Jail Wednesday night on new charges of burglary and attempted theft.
Police say he had another gun on him when he was arrested.
Read a story on the ATM thefts here.
---
---