Mon., Oct. 26, 2009
Spokane policemen honored for saving lives
Two Spokane policemen were honored by the City Council tonight for saving lives.
Officer Tim Moses (left) saved a man who was threatening suicide on the Monroe Street Bridge last month, and Cpl. Robbie Dashiell (right) saved a man who'd been shot in an apparent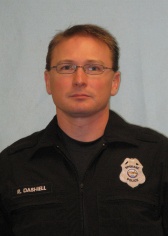 accidental shooting in August.
Read more on the shooting here.
Read the full news release from the Spokane Police Department by clicking the link below.
The Police Department will present quarterly awards at the City Council meeting tonight, at 6pm, City Council Chambers.
On September 3, 2009 at 1430 hours Officer Tim Moses responded with several other SPD officers to a possible suicide on the Monroe Street Bridge. Officer Moses immediately made verbal contact with the male subject. The male was straddling the west rail with his left leg over the rail and his right leg on the ground. Eventually he made further movements toward jumping by moving more of his body over the middle of the rail. His demeanor and body language indicated he was serious about taking his life. Officer Moses used superior verbal negotiating skills as well as tactical skills. Officer Moses kept the man calmed, even though the man detected officers closing distance for a possible intervention. When the man looked over his shoulder at one of the contact teams, Officer Moses was able to also close distance on the man and physically remove him from the railing. This immediate action by Officer Moses saved the man from injuring or killing himself. It also allowed contact teams the opportunity to take the man into custody without injury to him or SPD officers.
On August 16, 2009, Corporal Robbie Dashiell responded to an apparent accidental shooting in northwest Spokane. A male shot himself in the hand and the bullet went through and struck his friend in the pelvis, causing him to bleed profusely. When Officer Taylor arrived on scene, he observed Cpl. Dashiell down on the kitchen floor with one of the shooting victims. Officer Taylor observed Cpl. Dashiell open a packet of Quik Clot (a blood clotting sponge), which he had been carrying in his jumpsuit. Cpl. Dashiell quickly applied the Quik Clot directly to the gunshot wound and applied pressure. The victim was unconscious, barely breathing, and his pulse faded away a couple of times, probably due to the lack of blood pressure. Cpl. Dashiell was able to maintain pressure until medical personnel arrived and the victim's blood pressure was able to be stabilized. The victim was then removed from the scene and rushed to the hospital where he immediately underwent surgery. Cpl. Dashiell's quick actions by locating the victim's wound, applying the Quik Clot and stopping the bleeding was instrumental in saving the victim's life.
Also being presented will be the Employee of the 3rd Quarter, the Medal of Merit to Records Manager Theresa Giannetto and a Chief's Citation Award to the Records Division for eliminating the backlog of police reports.
---
---