Mon., Sept. 14, 2009
A raid today, a new car tomorrow?
Medical marijuana advocates rallied outside the courthouse today to protest the Spokane police's warning that dispensaries shut down.
The protesters went to City Hall later and expect to be along Broadway Avenue in front of the courthouse all week.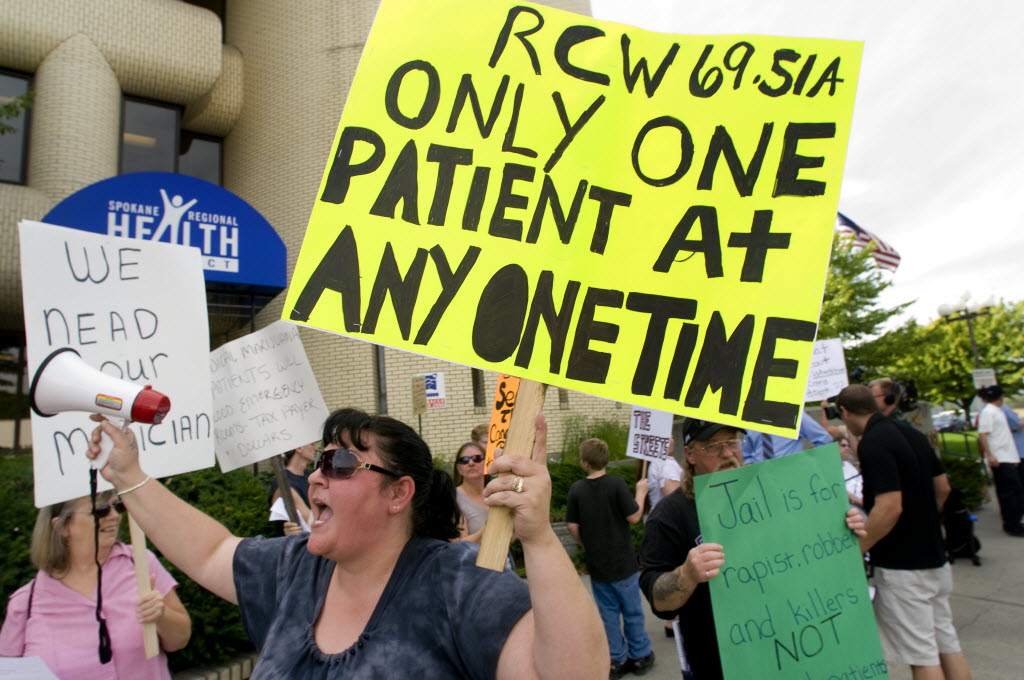 The group is hoping to bring attention to what they say is a need to clarify how medical marijuana users can legally obtain the drug.
Protesters made use of several bullhorns, including Jacey Hoag, who brought up a Spokesman-Review article published Sunday that details a slush fund kept by the Spokane Police Department's drug unit. (Read the story by Jody Lawrence-Turner here.)
"If you get to raid my dispensary today, you get to drive my car tomorrow?" asked dispensary owner Rhonda Duncan.
Police raided Hoag's home on Joseph Avenue in May after an investigation that began when undercover detectives spotted him leaving River City Hydroponics, according to a search warrant filed May 13 in Spokane County District Court.
The detectives had been staking out the store because "marijuana growers often purchase their equipment at these various garden stores," according to the warrant.
Detectives then smelled growing marijuana during stake outs of Hoag's home, then found power bill information that indicated a marijuana grow.
Police seized fresh marijuana and growing plants during the raid, but no charges have been filed:
Hoag has a medical marijuana card that allows him to have 15 plants and a pound and a half of marijuana at a time.

---
---