Thu., Aug. 5, 2010
Wigged woman sought in 2 bank robberies
A woman who wore a red wig to rob a Spokane bank in late June may have struck again this week.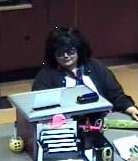 A robber matching the description of the culprit in the June 30 heist at Banner Bank, 933 E. Mission, stole an undisclosed amount of cash from Banner Bank, 3919 N. Market, just before 1 p.m. Monday, Spokane police announced Wednesday.
The woman did not display a weapon and appears to have worn a black wig (left). 
Police say she appeared 45 to 50 years old, 5-foot-5 with b

lack hair and dark sunglasses.
In the June 30 robbery, police say the same woman wore a wig and sunglasses (left, right) while demanding cash from  employees at the bank,  which is located inside a Safeway grocery store.

Crime Stoppers is offering a reward for tips that lead to an arrest.
Anyone with information on the woman is asked to call Crime Stoppers at 1-800-222-TIPS or submit tips online.
Tipsters don't have to leave their name to collect a reward but should leave a code name or number.
The woman is the second alleged serial bank robber operating in Spokane. The FBI still is looking for a bicycle-riding bandit linked to six robberies since December.
---
---