Tue., Aug. 31, 2010
Girlfriend's mom turns in robbery suspect
A man suspected of robbing a north Spokane credit union was turned in to police by his girlfriend's mother.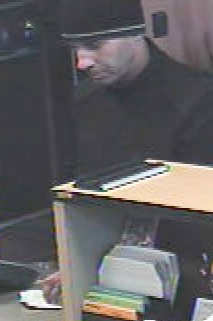 Eric C. Mason, 41, pleaded not guilty this morning to first-degree robbery, more than four months after police say he handed a threatening note to a teller at Spokane Teachers Credit Union, 8703 N. Indian Trail Road, then fled with about $1,200. 
Surveillance photos from the April 23 robbery showed a man with a black jacket and black knit cap.
Police say Mason's driver's license photo matched the robber's image; detectives looked at it after Mason's girlfriend mother called and said her daughter drove Mason to the robbery.
Mason later admitted to his girlfriend that he'd robbed the credit union, police said. He didn't display a weapon but wrote in the note: "Put money in envelope do not alarm! No dye pac's no tracking devices! No problems," according to court documents.
Mason reportedly told his girlfriend he planned to turn himself in, but Spokane police Lt. Dave McGovern said he left town instead.
A warrant was issued May 4; Mason was booked into Spokane County Jail Aug. 20, where he remains after his arraignment in Spokane County Superior Court this morning.
---
---