Mon., Feb. 1, 2010, 4:10 p.m.
Gunman threatens bail bondsman
A man accused of trying to steal an ATM last fall was arrested today after a bail bond company employee said he pointed a gun at her.
George W. Butrick, 32, pulled a 9mm Ruger handgun on a woman who works at Angel's Bail Bonds, 1215 N. Monroe St., about 12:38 p.m., Spokane police said.
Butrick, who court records show used the company to post $85,000 bond for 13 felony charges on Dec. 21, became upset when the employee accused him of violating his release agreement, witnesses told police.
"They were asking for more collateral to bolster the bond, and I don't think he cared for that too much," said Spokane police Officer Tim Moses.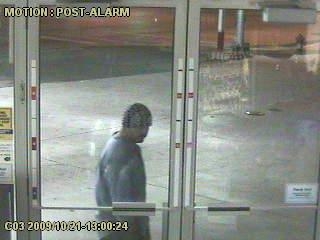 A woman who answered the phone at Angel's Bail Bonds declined comment.
"Nobody wants to talk about it," she said.
Butrick was jailed on charges of assault and unlawful possession of a firearm, police said. He is prohibited from possessing firearms because of felony convictions.
He's accused of smashing a convenience store window and trying to steal an ATM on Oct. 21 (the culprit is pictured at left) - two days after he left Spokane County Jail on $15,000 bail after being arrested with illegal weapons and drugs, including heroin, according to court documents.
Butrick was arrested for the alleged attempted ATM theft Nov. 4 but left jail again but was rearrested Nov. 27 after a Spokane County Sheriff's deputy found him with a an 8-inch knife, a hatchet and methamphetmine during a traffic stop, according to court documents.
A court order prohibits him from possessing weapons.
Since then, he's accrued a slew of felony charges that he bonded out on in late December, including charges of second-degree identity theft and second-degree theft for allegedly cashing a forged check on Oct. 29, according to court documents. He's charged with attempted second-degree theft, second-degree burglary and third-degree malicious mischief for the alleged ATM incident.
While a suspect in that attempted ATM theft, Butrick has not been accused of any ATM burglaries involving stolen vehicles smashing through storefronts.
No charges have been filed in those recent cases, but a group of career criminals was recently charged with a string of similar ATM thefts in early 2009.
---
---