Strychnine may have killed Spokane dogs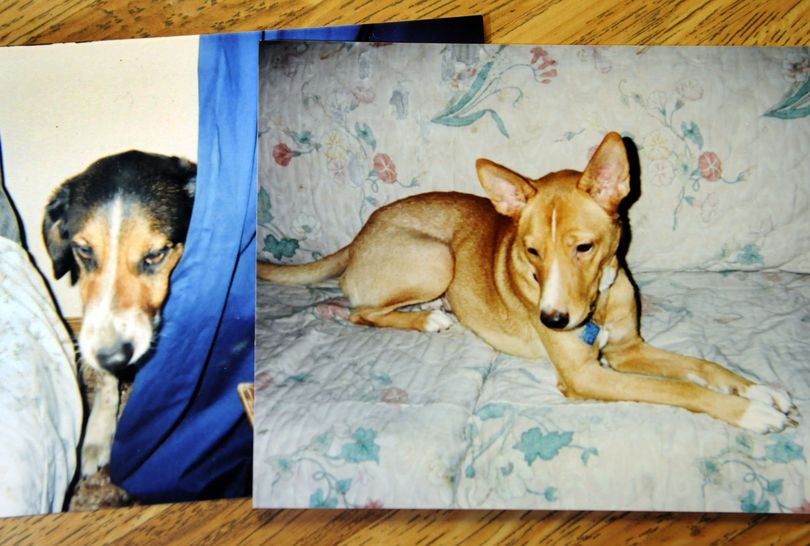 Washington State University veterinarians say a meatball found on a Spokane woman's property contained strychnine - the same poison thought to have killed dogs in North Idaho last spring.
The Spokane woman's dog died near Regal Street and the Palouse Highway last week after eating another meatball.
Two other dogs, Snoopy and Abby (pictured above, left and right), have died after eating similar meatballs found in the Moran Prairie neighborhood on Spokane's South Hill.
One attack took place in the 3300 block of East 55th Avenue, killing two dogs owned by 21-year-old David Cheney and his family.
Then on Monday, a homeowner near 36th Avenue and Grand Boulevard found a suspicious meatball similar to those found Friday.
Test results for the additional meatballs are expected today or Thursday, said Nancy Hill, director of the Spokane County Regional Animal Protection Service.
Meanwhile, dog owners are urged to inspect their yards and keep their pets indoors, and the Humane Society of the United States is offering a $2,500 reward to catch the person responsible for poisoning dogs in Spokane.
Similar poisonings reported in North Idaho last March was never solved. Lisa Kauffman, Idaho state director for the Humane Society of the United States, said officials believe the incident may have stemmed from a family incident but were never able to prove it.
Dog poisonings leave trail of questions, anguish
Sandpoint dogs poisoned by strychnine
---
---