Drugs, helicopters and death threats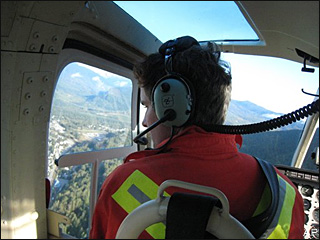 A reputed drug runner who leased the helicopter flown by the young man who committed suicide in Spokane County Jail has been indicted in U.S. District Court in Seattle.
This came after Colin Martin reportedly tried negotiating U.S. protection for his smuggling ring in exchange for handing over his coconspirators.
Martin's offer is detailed in the indictment filed Dec. 23, which led Canadian authorities to warn him of possible death threats.
It's the latest development in the Operation Blade Runner drug bust, a multimillion-dollar international smuggling operation that used helicopters to distribute thousands of pounds of marijuana, cocaine and Ecstasy, landing in remote sites in Eastern Washington and North Idaho.
The indictment shows co-conspirators apparently blamed Martin for the botched run by Samuel J. Lindsay-Brown (top right), allegedly sending Blackberry messages that said Martin "will be lucky if he is not dead."
They reportedly wanted him to pay for the lost load, estimated to be worth $4 million to $5 million. That was back in February. Canadian authorities thought the guys might be a little ticked when public court documents filed last month detailed Martin's alleged offer to tell U.S. drug agents all about them.

Read my latest story: Drug ring details emerge
Past coverage: A tale of drugs, money and helicopters
Pilot's story sought for big, small screens
Drug runner sentenced in closed proceeding
---
---