Fri., July 9, 2010
Pot suspect with ailing brother granted bond
A Canadian truck driver arrested with 300 pounds of marijuana bound for an Avista plant in Kettle Falls will be allowed to leave jail before trial, a U.S. magistrate ruled Friday. 
Matthew G. Tutt, 31, has an older brother who has been diagnosed with cancer and given 18 months to live, said his public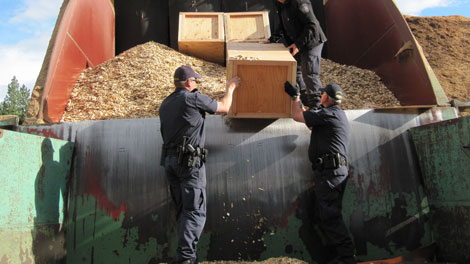 defender, Amy Rubin.
Tutt's mother and father traveled to Spokane from Vancouver Island, B.C, from the hearing, which U.S. Magistrate Cynthia Imbrogno said weighed heavily on her decision to release hm from custody.
Tutt was driving a load of wood chips for Middleton Trucking in Maple Ridge, B.C., when border agents found marijuana in five wooden crates hidden inside the load at the Kettle Falls plant.
He pleaded not guilty Friday to a grand jury indictment charging him with possession of marijuana with intent to deliver and importation of marijuana. Both charges carry five to 40 years in prison.
An assistant U.S Attorney requested bond be set to equal the value of the fine B.C marijuana Tutt is alleged to have imported into the country - she estimated $400,000 - but Imbrogno granted a bond of $50,000 - $25,000 cash and $25,000 through a U.S. bond company.
Tutt's parents will be required to pay a $100,000 appearance bond if he doesn't show up for court.
Tutt will live in North Vancouver and report monthly to a federal office in Blaine, Wash. He's allowed only to Blaine and to Alberta to visit his ailing brother.
---
---