Thu., March 25, 2010
Police chief honors boy who saved mother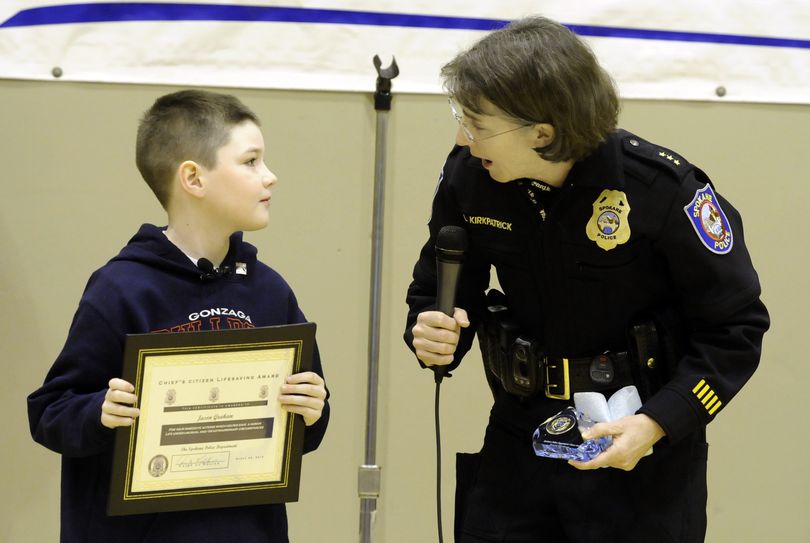 Spokane police Chief Anne Kirkpatrick awarded her highest honor today to a young boy who saved his mother's life.
Jason Graham saved his mother, Beverley Graham, as she took him in for a hair cut on Jan. 22. Graham is the boy's biological grandmother who adopted him at birth.

The 8-year-old boy was honored Thursday by Kirkpatrick and several special guests in front of his Roosevelt Elementary schoolmates.
Read Jody Lawrence-Turner's story here.
Read Kirkpatrick's speech to Jason by clicking the link below.
"On January 22, 2010, at 3:17 p.m., you were with your grandmother, Beverly Graham, parked in front of Super Cuts at 29th and Grand Blvd.  You noticed the van was parked partially up on the curb, and notified your grandmother.  She got back into the van to move it, and somehow fell out on to the pavement while the van was rolling backwards.  Your grandmother became trapped underneath the vehicle and sustained life threatening injuries.

Jason, due to your quick thinking, you turned off the ignition to prevent further movement of the vehicle. You then got out of the car and loosened Beverly's clothing so that she could breathe easier.  You were able to react and handle the situation heroically; you saved your grandmother's life.

Jason, I am very proud to recognize you today, for assisting in saving the life of Beverly Graham.  You deserve to be recognized for your actions and to receive the Chief's Citation Award. "
- Chief Anne Kirkpatrick
---
---