Charge: Pot suspect harassed cop via text
 The text messages to the Spokane County Sheriff's deputy came after a raid at a suspected marijuana grow house. 
"(W)ee can either b friends or ene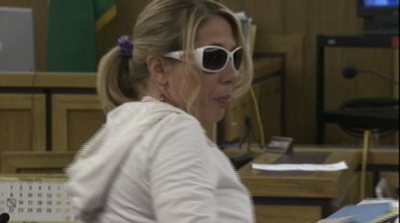 mies," the cryptic message began, urging police to drop their probe and alluding to dire consequences that could befall the detective's family members if it continues: "don't do this 2 ur kid…I've got a surprise for you…tic tock tic tock you aint even going to know when it's coming." 
Those and hundreds of other sexually explicit, profanity-laced messages filled Detective Jeff Shover's cell phone in the weeks after he gave his number to a suspect who was vacationing in Hawaii when the grow operation was raided, and claimed she was in danger.
That suspect, 41-year-old Tina Blanchette, has been charged with intimidating a public servant and making harassing phone calls in a case that began as an otherwise routine marijuana probe but has now taken an unusual twist.
Police say the hundreds of text messages, phone calls and emailed images can be traced to her phone. But, Blanchette said in an interview, "You're only seeing part of the conversation… It's really humiliating because I've been depicted as something completely different."
(Blanchette is pictured in court on Tuesday, thanks to KHQ.)
Read the rest of my story here.
---
---