Thieves trim tail hair from Mont. horses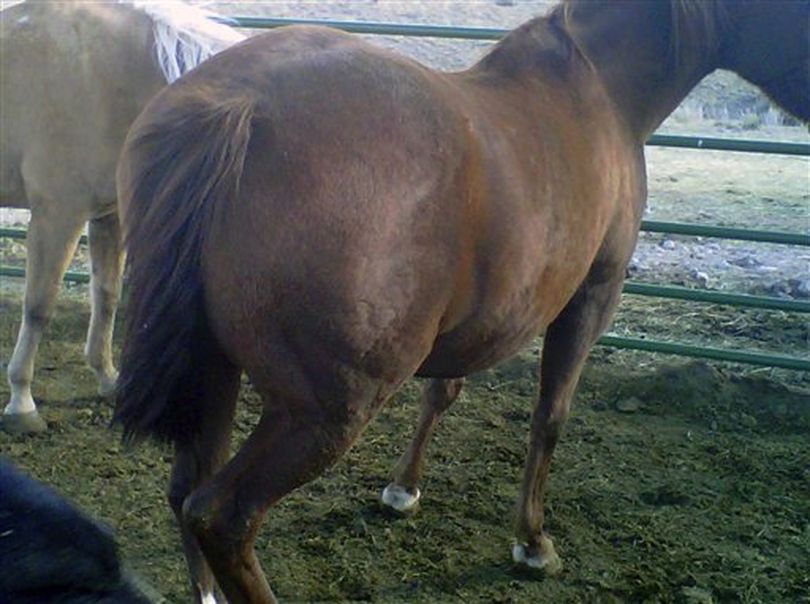 BOZEMAN, Mont. (AP) — At least two southwest Montana horse owners are reporting thieves trotted off with tail hair from their horses.

Such hair can be valuable to makers of handcrafted horse bridles or other items or used as tail extensions for show horses.

Sandy O'Rourke tells the Bozeman Daily Chronicle that someone entered a Three Forks corral on Oct. 17 and cut off the tail hair of two horses and part of the mane of a third horse. The hair was cut off below the bony section of the tail. The horses were not injured.

In Dillon, Bob and Connie Riley are offering a $500 reward for information leading to whoever snipped the tail off their horse about a month ago.

"They took everything from his tail bone down to the ground," O'Rourke said of her white appaloosa, Luke. "So they took probably a good 4 or 5 feet."

She said they also lopped the tail off her friend's black-and-white spotted appaloosa and black hair from the mane of a third horse (one horse, Sam, is pictured above). The Riley's Morgan horse is missing auburn tail hair.

In both cases, the owners say the horses are gentle, used to people and easy to approach.

Bob Riley said he has given Beaverhead County Sheriff Steve Donner the descriptions of two pickup trucks and license plates, but no one has been arrested.

"We put our corrals on top of our land to keep our animals away from the roads and possible abuse," Riley wrote in an e-mail to The Associated Press on Wednesday. "In the end that made it possible for the thieves not be noticed."

Riley said an unbroken rescue mare foiled a second attempted theft on his property.

"Too bad she didn't stomp them," he wrote.
---
---