Fri., Sept. 10, 2010
Fairfax deal postponed; victim hires lawyer
A plea hearing for an alleged hitman-turned-informant has been postponed until October.
Larry A. Fairfax, 49, has agreed to plead guilty to two federal weapons charges connected to a pipe bomb placed under Cyndi Steele's car as part of a murder plot the FBI says was hatched by her husband, former Aryan Nations lawyer Edgar Steele.
But Fairfax was reluctant to admit on Tuesday that the device had the potential to explode, and a hearing scheduled for Thursday was postponed because of scheduling conflicts with the judge, said Assistant U.S. Attorney Traci Whelan.
Cyndi Steele has hired a lawyer and filed a 16-page affidavit objecting to the proposed plea deal, alleging her rights as a victim have been violated. Fairfax's new hearing is set for Oct. 7. Steele's lawyer is Wesley Hoyt, who unsuccessfully defended a wealthy North Idaho businessman convicted in 2005. of plotting to kill federal officials.
 At the time, Hoyt had said the case against David Roland Hinkson, described as a "hard-core patriot" by his anti-government associates, was brought by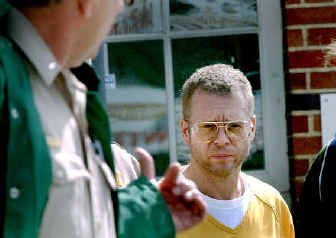 witnesses who were seeking to take over Hinkson's business or wanted large amounts of money from him.
Hinkson (pictured) was convicted of soliciting the murders of U.S. District Judge Edward Lodge, Assistant U.S. Attorney Nancy D. Cook, and Internal Revenue Service Special Agent Steven M. Hines.
All three had been involved in a separate, federal tax case against Hinkson's water business. None of the officials was harmed.
Hinkson is imprisoned at the United States Penitentiary in Florence, Colo., and is to be released in 30 years.
Hoyt, former prosecuting attorney for Idaho County, is a member of Robert J. Hopp and Associates and is licensed to practice in Colorado and Idaho, according to his website.
Past coverage of the Hinkson case: 
Jan. 29, 2005: North Idaho businessman convicted in murder plot
July 2, 2004: Trial set in alleged plot to kill officials

June 30, 2004: Convicted tax evader charged in murder plot
---
---