Tue., Sept. 14, 2010
State could rest today in 3-strikes trial
Spokane County Deputy Prosecutor Mark Cipolla expects to wrap up his case against Timothy "Stoney Boy" Lucious today after testimony from four or five witnesses, including a man authorities apparently didn't know was connected to the July 2009 shooting until a few months ago. 
Antonio E. Cook, Jr., 29, (left) was with a group of women when they drove to meet another group for a fight early July 24 to settle a dispute that began at a north side bar. Two of the women testified Monday that they'd brought Cook along for "protection" during the fight.

But the women hadn't told investigators about Cook until long after Lucious' arrest, according to court testimony. Lucious' lawyer, Steve Reich, said repeatedly that Cook was known to carry a .45 handgun.
Lucious, who already has two convictions for violent crimes under the state's three strikes law, faces six counts of attempted first-degree murder and one count of drive-by shooting for the shooting on July 24, 2009. First-degree assault is listed as an alternative charge. The trial opened Monday before a jury of eight women and five men (one juror is an alternate). As is customary, jurors are not allowed to know Lucious' possible punishment.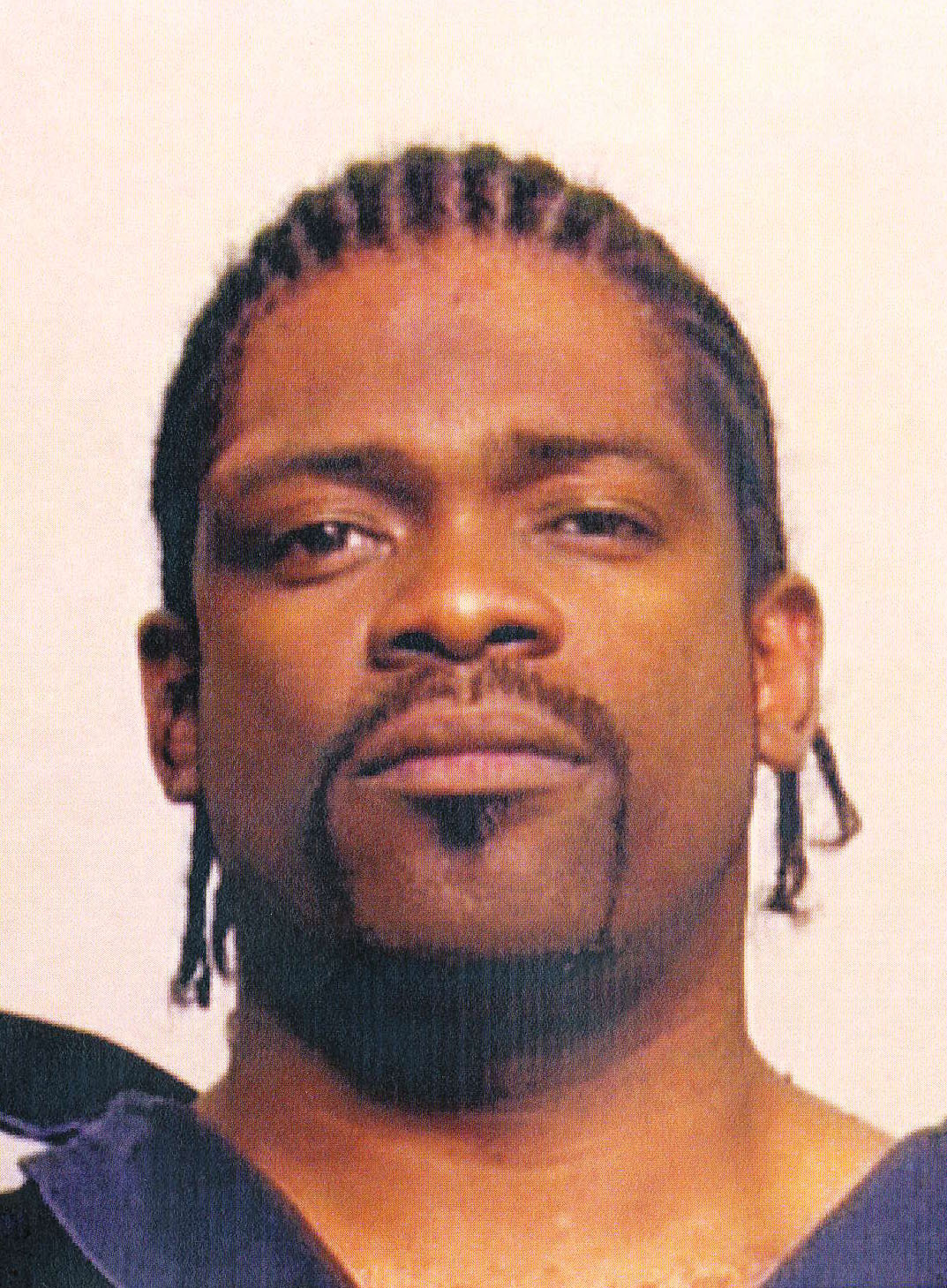 Lucious (right, in 2009) wore black slacks, black shoes and a white pine striped shirt with buzzed hair and a beard and mustache.
Witnesses included alleged attempted-murder victim, 18-year-old Ebony Branch, who said she didn't tell police about Cook, the father of her sister's baby, because Cook was prohibited from being out after 10 p.m. by the state Department of Corrections.
Reich said Branch didn't tell him that during an interview in March, either.
Branch said she didn't tell investigators until "a couple of months ago" but denied conspiring with the other women to hide Cook's involvement.
Testimony from Branch and another alleged victim, Donna M. Dansby, portrayed a wild fight between several women that led to a showdown in a park on the lower South Hill, near 7th and Newark.
Dansby testified that she removed her heeled shoes and used them as weapons while charging a woman who later grabbed a butcher knife after spitting a razor blade from her mouth. Dansby and her friends then traveled from the bar to an after party, where they met the women again and agreed to meet at the park for a fight.
When they arrived at the park, Lucious was there with a gun, Branch said. Lucious fired several shots at the car as they drove away, Branch testified, then was still there with the gun when they realized they'd forgotten Zsaja J. Branch, Ebony's older sister.
They turned around to picked her up, and Zsaja was shot by Lucious as she ran to the car, Ebony Branch testified.
Branch was shot in the chest and survived, though police initially considered the wound life threatening, according to court documents. Dansby was shot in the arm during the melee but testified that she doesn't remember how it happened.
Testimony is scheduled to resume today at 9:15 after Cook, also a witness in the John S. Williams murder case, is sentenced in a separate case.
---
---