Cyndi Steele: Let me talk to Edgar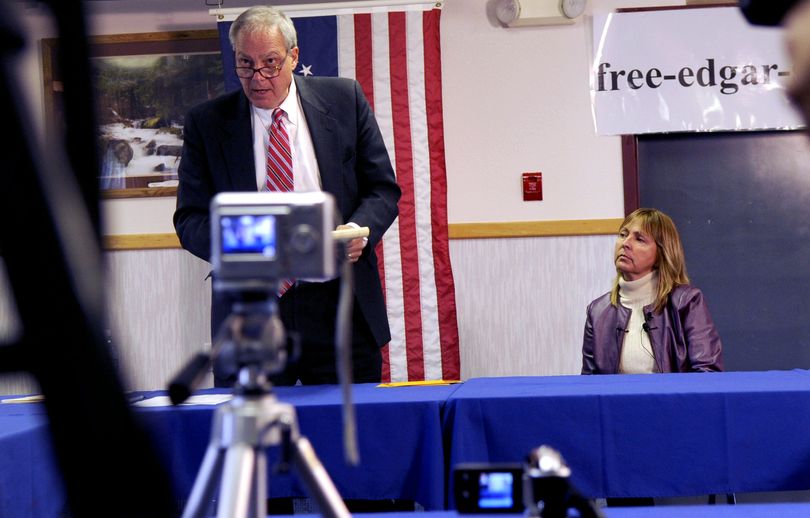 The alleged victim in a murder for hire plot is trying to get rid of the no contact order between herself and the suspect, who is also her husband. 
Through her lawyer, Wesley Hoyt, Cyndi Steele filed a motion Monday to vacate the no contact order. A hearing is set for Oct. 7, the same day Larry Fairfax, the alleged hitman turned FBI informant, is to plead guilty and be sentenced on two federal weapons charges. (Hoyt and Steele are pictured above at a press conference Sept. 20.)
Cyndi Steele is objecting to Fairfax's plea, saying he's the real mastermind of the murder plot, not her husband, Edgar Steele (right).
In a 13-page motion, Hoyt alleges FBI Special Agent Mike Sotka improperly influenced Cyndi Steele's perception of the case. Hoyt argues phone calls between the Steeles don't influence Cyndi Steele's perception "nor will any future communications with her husband have any influence on her testimony," according to the motion.
Cyndi Steele "evaluates information independently based on her own perceptions and refused to be influenced by others such as her husband or S.A. Sotka," the motion reads.
The couple relies on each other for financial advice, and Edgar Steel has extensive knowledge of the family's websites and business interests that are crucial to Cyndi Steele, according to the affidavit.
Past coverage:

Sept. 21: Cyndi Steele alleges conspiracy
---
---