Thu., Dec. 1, 2011
Chief honors woman who tracked robber
Citizen Award recepient Carey Smith and Spokane Police Chief Anne Kirkpatrick. (Spokane Police Department photo)
A Spokane woman who helped police catch a bank robber last summer was honored today by Police Chief Anne Kirkpatrick.
Carey Smith was driving north on North Monroe Street near West Dalke Avenue on July 20 when she saw a man running with orange powder coming from a bag he was carrying.
She turned around to follow him and memorized the license plate of his getaway vehicle. Smith gave the information to police, who were searching for a man who held up the Wells Fargo bank at Monroe and West Francis Avenue.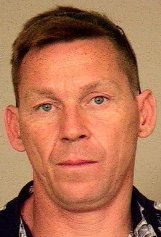 Police spotted the car and followed it; suspect Lawrence A. Wideman (pictured) was arrested after driving through a metal fence into a cemetery and trying to escape in the Spokane River.
Wideman, 44, is a level 2 sex offender with a conviction in 2009 for third-degree rape of a child. He pleaded guilty to the bank robbery in October and was sentenced to 162 months in prison.
Kirkpatrick awarded Smith the chief's Citizen Award this morning at the Public Safety Building.
---
---