Thu., Dec. 22, 2011
Man w/ 'Sureno' face tattoo is 3 striker
A reputed Sureno gang member who Spokane police say stayed hidden in a couch after tear gas was pumped into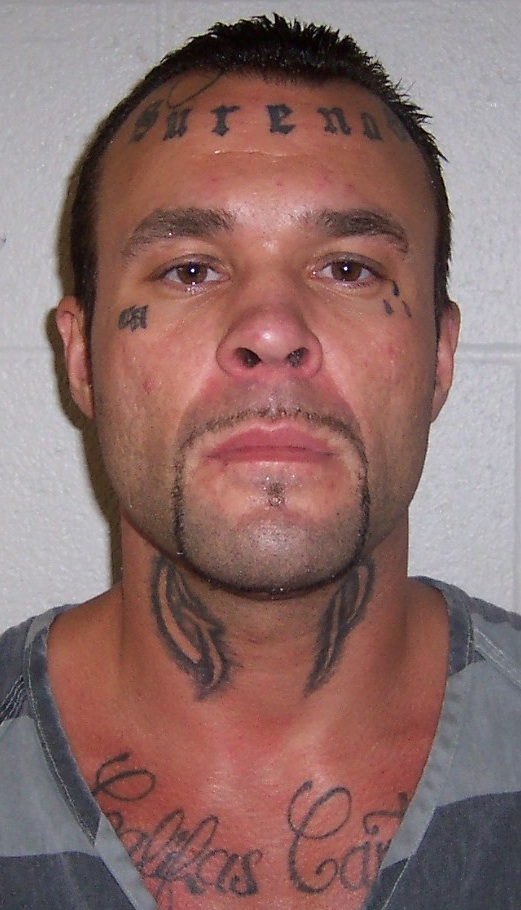 his apartment faces life in prison if convicted under the state's three-strikes law.
Bobby S. "Angel" Decaney, 35, (pictured) pleaded not guilty Tuesday to first-degree kidnapping and first-degree robbery. He already has two convictions for violent felonies.
Decaney and Maceo L. Williams, 27, are accused of holding 22-year-old Jennifer M. Taylor while another woman assaulted her and stole methamphetamine from her pocket on Dec. 1.
The female assailant choked Taylor unconscious with her own necklace and threatened to kill her, according to court documents. The incident led to a SWAT team standoff in north Spokane.
Police contacted Taylor at a hospital, where she told them she'd gotten a ride on the the South Hill from Decaney, whom she knew as "Angel" and described as having "Sureno" tattooed across his forehead. Williams, the unidentified female assailant and Michael J. Hall also were in the car, she told police.
She said Decaney stopped the car and the woman accused her of talking badly about her ex-boyfriend, who police say also is a Sureno gang member. Taylor told police lost consciousness while being strangled then awoke to the woman punching her and stealing five ounces of meth that was hidden in her bra.
Police tried to contact Decaney and Maceo at Decaney's apartment at 13110 N. Addison, but they refused to come out and the gang unit and SWAT team were called to assist. Police evacuated the area and, after a few hours, pumped tear gas into the apartment. Williams, Hall and Nicole Coffey emerged and said no one was left inside, documents say, but a Spokane police dog, Stryder, found Decaney hiding in a large zippered bag that was secreted inside a couch, according to court documents.
Williams also pleaded not guilty to kidnapping and robbery charges Tuesday in Spokane County Superior Court. Both suspects are in the Spokane County Jail. Hall and Coffey were arrested after the standoff but have not been charged.
The police investigation into the assault is ongoing.
---
---