Mon., Feb. 21, 2011
Canadian gangster admits drug charge
A Canadian gangster who authorities say is responsible for major drug distributions in Eastern Washington faces eight years in prison under a plea agreement signed recently in Spokane.
Joseph P. Curry, an associate of imprisoned B.C. drug lord Clay Roueche, pleaded guilty Thursday to importation of Ecstasy, which carries a maximum 20 years in prison.
Prosecutors and Curry's lawyer, Chris Phelps, have agreed to recommend a 102-month sentence and three years probation at his sentencing May 5.
According to the plea agreement filed Thursday, Curry made an emergency landing in a small Cessna plane about 35 miles from the Canadian border in Okanogan County on Aug. 10, 2007.
Federal agents found three duffel bags containing 30 kilograms of Ecstasy nearby. Curry's lawyer called authorities on Aug. 13, 2007, and asked for the plane back, saying his client had experienced engine problems and bad weather. A grand jury indicted Curry the next month.
Curry was named as as a suspect in the Operation Blade Runner federal drug bust that included arrests in Eastern Washington and North Idaho and led to the suicide of young helicopter pilot Samuel Lindsay-Brown int he Spokane County Jail.
After Lindsay-Brown's suicide, another young Canadian man was arrested near Priest Lake with a helicopter filled with marijuana. The helicopter belonged to a friend of Curry's, and authorities believe Curry helped load the aircraft in Canada, according to court documents.
Curry is an associate of the United Nations gang in Vancouver, B.C.
Roueche, the gang leader, was sentenced to 30 years in prison last December. Prosecutors said he ran a drug ring that used a network of helicopters, planes, semi-trucks and other methods to move tons of marijuana and cocaine and millions of dollars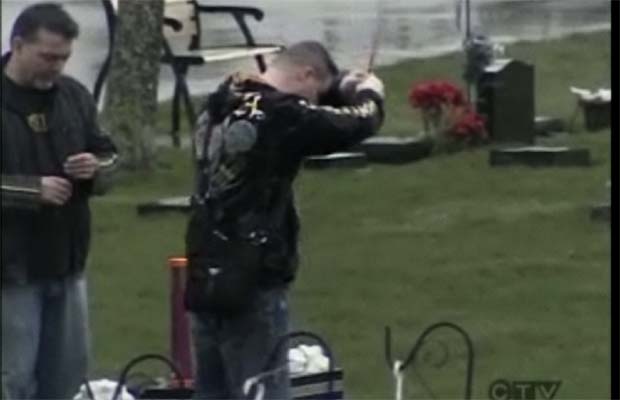 through Canada, the U.S. and Mexico.
Curry and Roueche were photographed together (see left) at the funeral of a UN gang member who was killed in a drug-related shooting in Canada, according to federal court documents.
Federal agents believe a smaller drug ring was headed by four Canadian men, one of whom offered to cooperate if investigators let him continue his operation for a decade.
---
---