Wed., June 8, 2011
Bad Hair Bandit robs Moses Lake bank
A serial bank robber dubbed "the Bad Hair Bandit" is believed to have robbed a bank in Moses Lake on Tuesday.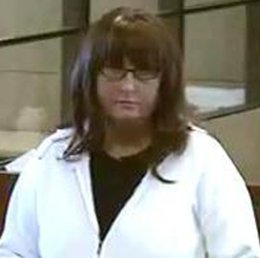 A wigged woman matching the description of the robber thought to be responsible for 14 bank robberies since December entered Sterling Savings Bank and demanded money but did not display a weapon, according to the Associated Press. A picture from a February robbery is at left.
The method matches that of the Bad Hair Bandit, who police believed robbed Chase Bank on Francis Avenue in Spokane last month after robbing banks in Ellensburg and Moses Lake in late April.
The FBI believes the same woman may have also robbed two Banner Bank locations in Spokane last summer.
Enjoy a slide show of photos from the 14-bank robbery spree above.
Crime Stoppers is offering a reward for tips that lead to her capture. Anyone with information should call at 1-800-222-TIPS or submit tips online. Tipsters don't have to leave their name to collect a reward but should leave a code name or number.
---
---