Fri., June 10, 2011
Ex-local Aryan convicted in racist beating
A white supremacist who ran for the Hayden City Council in 2003 has been convicted of a racially motivated attack on a black man in southwestern Washington.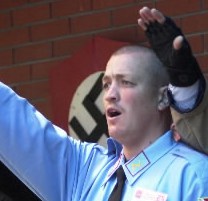 Zachary Loren Beck, 32, (pictured in 2003) was convicted Wednesday of conspiracy to violate civil rights after a bench trial in U.S. District Court in Tacoma. Beck, Kory Boyd and Lawrence Silk attacked the man in January 2010, shouting racial epithets.
Boyd was sentenced to 34 months in prison after pleading guilty to interference with a federally protected right. Silk pleaded guilty to malicious harassment in state court and was sentenced to 24 months. Beck is to be sentenced Sept. 2.
The men were at a bar in Vancouver when Beck told a bartender that the victim should leave "or there would be a problem," according to court documents. The man didn't leave, so Beck met with Silk and Boyd to plan the attack. Beck reportedly told the man that she should not be "kissing our girls," documents say.
The three assailants are described as "self-avowed white supremacists" by federal prosecutors.
Beck was a member of the Aryan Nations in North Idaho and was arrested for malicious harassment while a city council candidate.
He also was accused in 2004 of shooting at a police officer during a standoff in Longview, Wash.
---
---