Tue., May 3, 2011
Murder victim remembered in obituary
A 22-year-old man found shot in the head in the trunk of his burning Thunderbird was remembered in an obituary Sunday as a caring, fun-loving man who loved country western music, movies and "wearing his trademark bling."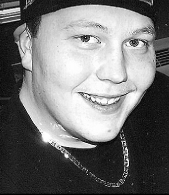 Nicholas J. "Nick" Thoreson enjoyed spending time with his girlfriend, Ivory Hendry , and their 1-year-old son, Thomas.
His greatest joy was caring for the boy, the obituary said. Thoreson "lived life to the fullest," and enjoyed, "above all else, spending time with his family."
"Nick left this earth too early for us to understand, but God always has a purpose and therefore we all must believe that Nick is still among us fulfilling his," the obituary reads.
Thoreson attended Greenacres elementary and junior high as well as Central Valley High School. He spent two years in job corps, where he met Hendry. Friends say Thoreson also met one of his accused killers, Taylor J. Wolf, in job corps.
Thoreson's memorial is next Saturday.
"Thank you for being part of our lives Nick - you will continue to live in our hearts and never be forgotten," his family wrote.
Wolf, 20, who has ties to the Hells Angels, and sibling murder suspects Breeanna Sims, 19, and Justice Sims, 18, are charged in Spokane County District Court.
Deputy Prosecutor Jack Driscoll said today that he expects to file charges in Superior Court this week.
Asked if the suspects could be charged with aggravated murder, which carries the death penalty or life in prison with no parole, Driscoll said "perhaps."
"We'll formally file charges in the next day or so, and you'll know then," he said.
Court documents say Thoreson was assaulted for hours and stabbed several times before he was fatally shot in the head. His body was found in the Thunderbird near Forker and Bigelow Gulch roads April 13.
A motive is unclear. Breeanna Sims told a friend that her brother believed Thoreson had held her against her will, but Justice Sims told another person that Thoreson had told on his sister, which led to the murder.
Past coverage:
---
---