Fri., May 6, 2011
Jury convicts Edgar Steele on all counts
Idaho U.S. Attorney Wendy Olson is pictured after the verdict. In back, from left to right, are two unidentified officials, Assistant U.S. Attorney Traci Whelan, FBI Special Agent Mike Sotka and Assistant U.S. Attorney Marc Haws. Above that photo is a slideshow of photos showing Edgar Steele through the years.
BOISE – A North Idaho lawyer accused of plotting to kill his wife failed to persuade a federal jury that he was the victim of a government conspiracy to silence him.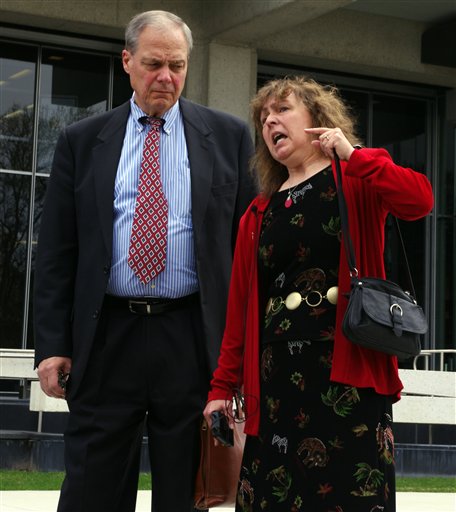 The U.S. District Court jury of 11 women and one man Thursday convicted Edgar Steele of hiring handyman-turned-FBI-informant Larry Fairfax to kill his wife, Cyndi Steele, and mother-in-law.
Cyndi Steele, pictured with her attorney, Wesley Hoyt. vowed to appeal the verdict. She believes her husband was targeted because of his defense of unpopular clients.
Read the rest of my story here.
A previous version of the story with more than 20 reader comments is available here.
A no-contact order between the Steeles has been lifted, and they are free to visit in jail whenever visiting hours permit.
A background piece on Steele is available here.
Steele was convicted of the following felonies:
1. Use of interstate commerce facilities in the commission for murder (for directing Larry Fairfax to drive to Oregon to kill his wife.) Punishable by up to 10 years in prison.
2. Aiding and abetting use of explosive material to commit a federal felony (for a pipe bomb Fairfax strapped to Edgar Steele's car at Steele's direction so authorities would think his wife's killer also targeted him.) Punishable by up to 10 years in prison.
3. Aiding and abetting possession of a destructive device in relation to a crime of violence (for the pipe bomb on Cyndi Steele's SUV.) Punishable by a minimum 30 years in prison.
4. Tampering with a victim (for a phone call he made to Cyndi Steele after his arrest). Punishable by up to 20 years in prison.

---
---