Thu., May 12, 2011
Was the Bad Hair Bandit here last year?
A serial bank robber dubbed "the Bad Hair Bandit" may have robbed two north Spokane banks last year.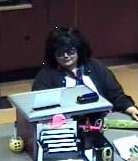 The FBI is investigating whether a woman believed to be responsible for 14 robberies since last December also struck two Banner Bank locations in Spokane last summer.
On June 30, a heavyset woman robbed Banner Bank at 933 E. Mission Ave. wearing a red wig and sunglasses. Police say the same woman wore a black wig while robbing Banner Bank at 3919 N. Market on Aug. 2.

Nearly five months later, a wigged woman started robbing banks in Western Washington and continued through April.
The FBI believes the same woman robbed banks April 26 and April 27 in Ellensburg and Moses Lake, then Chase Bank on Francis Avenue in Spokane Monday.
Investigators say the Bad Hair Bandit may be staying at cheap motels in the Spokane area. Crime Stoppers is offering a reward for tips that lead to her capture. Anyone with information should call at 1-800-222-TIPS or submit tips online. Tipsters don't have to leave their name to collect a reward but should leave a code name or number.
Surveillance photos from those robberies are pictured left and right. Enjoy a slideshow of photos from the 14-bank robbery spree above.
Here's a list of the robberies tied to the Bad Hair Bandit since December:
Dec. 22, 10:15 a.m., U.S. Bank, 870 S. 38th St., Tacoma
Jan. 5, 11:05 a.m., Key Bank, 5400 Capitol Blvd, Tumwater
Jan. 12, 10:30 a.m., Key Bank, 3501 S. 19th St., Tacoma
Jan. 14, 3:30 p.m., Wells Fargo, 15004 Pacific Ave., Spanaway
Jan. 21, 4:20 p.m., Heritage Bank, 8002 Pacific Ave., Tacoma
Jan. 26, 2:59 p.m., Cathay Bank, 18030 E. Valley Highway, Kent
Jan. 27, 1:36 p.m., First Security, 14808 N.E. 24th St., Redmond
Feb. 10, 5:24 p.m., U.S. Bank, 401 SE 15th St., Auburn
Feb. 19, 11:45 a.m., Wells Fargo, 2615 W. Bridgeport Way, University Place
March 25, 5:43 p.m., Sound Community, 2941 S. 38th St., Tacoma
April 9, 12:49 p.m., Wells Fargo, 2615 W. Bridgeport Way, University Place
April 21, 2:12 p.m., Cathay Bank, 13238 N.E. 20th St., Bellevue
April 26, 3:25 p.m., Wheatland bank, 205 S. Main St., Ellensburg
April 27, 10:02 a.m., Key Bank, 314 E. 3rd Ave., Moses Lake

---
---