Fri., May 20, 2011
Sibling murder suspects plead not guilty
Two teenage siblings pleaded not guilty to aggravated first-degree murder charges Thursday in Spokane County Superior Court.
Video conference at the jail isn't working, so Breeanna C. Sims, 19, and Justice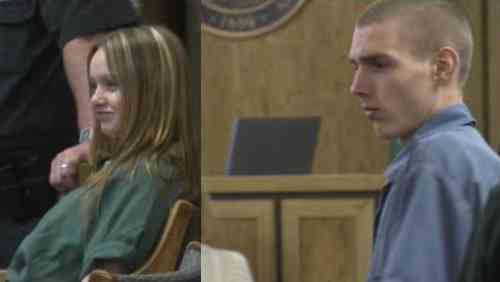 E.D. Sims, 18, appeared in person before Judge Michel Price, wearing light blue jail jumpsuits and shackles.
Breeanna Sims appeared to smile or smirk during the hearing. She sat apart from her brother, and the two had no contact during the afternoon hearing.
Friends and family of murder victim Nicholas J. Thoreson, including the mother of his 1-year-old son, attended the arraignments, which came one day after defendant Taylor J. Wolf, 20, pleaded not guilty to aggravated first-degree murder, first-degree kidnapping, second-degree arson, and taking a motor vehicle without the owner's permission.
The Simses face the same charges, though Breeanna Sims also is charged with rendering criminal assistance for allegedly trying to remove guns from a field near where Thoreson's body was found in the back of his burning Thunderbird on April 13.
The Simses and Wolf remain in the Spokane County Jail on $1 million bond. The Simses are pictured in court, courtesy of KHQ.
Past coverage:
May 19: Suspect spoke of murder in jail call
May 3: Homicide victim remembered in obituary
April 21: Homicide victim may have been tortured
April 14: Man in burned car was shot in head; suspect jailed
---
---