Mon., Oct. 3, 2011
Spokane police prepare for busy time
It's going to be a big few months for the Spokane Police Department.
With pending leadership changes and the federal trial of Officer Karl F. Thompson for the death of Otto Zehm set to begin next week, the department is preparing for a stressful time, as Capt. Frank Scalise said in the latest e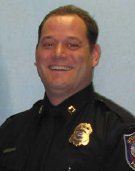 mployee newsletter.
Scalise (pictured) said police are used to dealing with unpredictable change, "but the control part creates a little anxiety or frustration," he said. "Critical incidents, whatever our involvement, add to this," Scalise wrote. "Media coverage, particularly if not entirely favorable or even accurate, compounds this further."
Scalise offers this advice to navigate what he calls "these sometimes treacherous waters of change."
"I would offer you two things to remember. One is that you are involved in an extraordinarily difficult, honorable profession. Take pride in that. You're part of the SPD. You're part of your individual team within the SPD. I know the good work you're doing, and so do you. Be proud," Scalise wrote. "Secondly, remember what we can control – how we treat each other. This is true at all times, but even more so when we get into difficult times. We are likely facing such a time over the next six months – legal events, media coverage, and leadership change. Any of these events would be a big change all by itself, much less all at once. At these times, we need to pull together as a family. Treat each other well. Look out for each other. Because no matter what else changes, we know we can count on each other."
The entire newsletter is available in PDF format here.
---
---