Mon., Oct. 10, 2011
Bank robbery suspect arrested in Ore.
A man suspected of robbing a north Spokane bank last week was arrested on Saturday in Portland, Ore.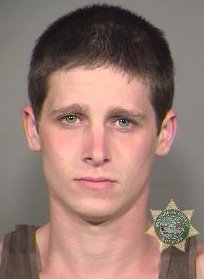 Jeremiah J. Pickup, 21, was arrested about 4 a.m. Saturday at a hotel, said Spokane police Officer Tim Moses.
Pickup's booking photo is featured at right. A surveillence images from the bank robbery is at left.
Police believe he's the man who robbed the Chase Bank at 5508 N. Division St. on Wednesday afternoon.
The robber told a bank teller he had a weapon and fled with an undisclosed amount of cash, police said.
Police said last week that they believed the culprit was Pickup and released surveillance images showing the robber.
Pickup was taken into custody by Portland police and booked into the Multnomah County Jail on a heroin possession charge and a parole violation. He faces a first-degree robbery charge in Spokane County and also is suspected of robbing a bank in Multnomah County, Ore.
---
---