Mon., Oct. 17, 2011, 12:09 p.m.
Police use '505' to support Thompson
As the excessive force trial of Officer Karl Thompson enters its second week, many Spokane police officers have made his badge num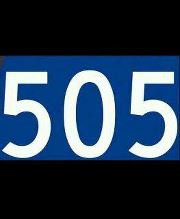 ber their personal Facebook profile pictures as a show of support.
Thompson is a mentor to many in the department and was drafted to run for police chief before Anne Kirkpatrick was appointed in 2006.
His indictment on federal charges of lying to investigators and violating Otto Zehm's civil rights during the 2006 confrontation that led to Zehm's death has drawn the ire of many in the department, who have joined a Facebook group that says Thompson is "a media scapegoat, wrongly accused, and wrongly charged."
Several Spokane police employees are expected to be called as witnesses for the prosecution, including use-of-force expert Rob Boothe, who is a member of the support group.
The long-anticipated trial, coupled with pending leadership changes, prompted police to address the expected tough times in the recent department newsletter.
Past coverage:
Oct. 15: Eye witnesses dispute Thompson's account of Zehm encounter
Oct. 13: Officer Moses may plead 5th in Thompson trial
Oct. 13: Oreskovich calls Thompson prosecution 'vicious'
---
---