Tue., April 3, 2012
3rd man arrested in Rosalia murder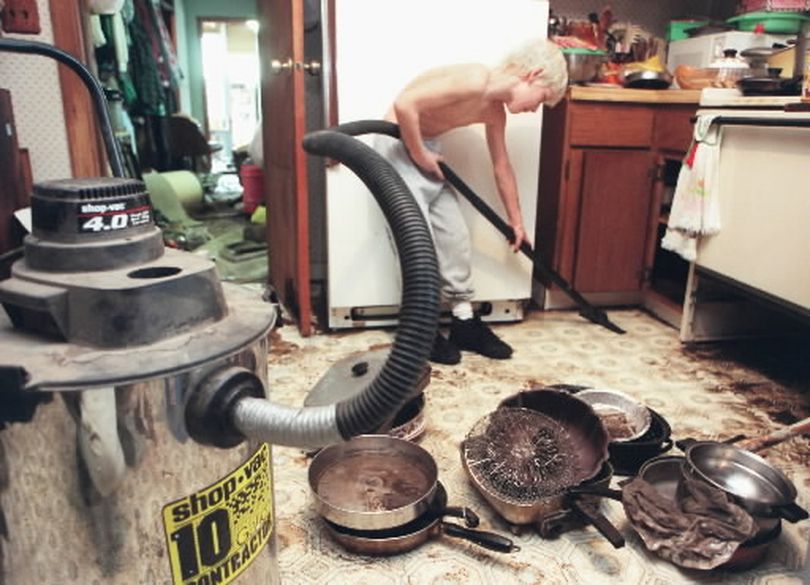 In this January 1997 photo, Marcus Schur, then eight-years-old, uses a wet-vac to suck up the remaining water in a family friend's kitchen after homes along Pine Creek in Rosalia flooded. Schur was murdered in Whitman County in December 2011. (SR archives)
A third suspect has been arrested in the December murder of a 23-year-old Rosalia man whose body recently was recovered from a Whitman County creek.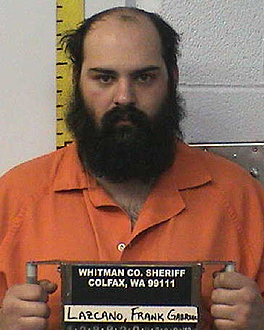 Lorin Travis Carlon, 35, is accused of helping murder suspects Frank Lazcano, 24, of Pine City, and Daniel Lazcano, 20, of Spokane, try to avoid arrest after the shooting death of Marcus Allen Schur, officials say.
Whitman County sheriff's deputies arrested Carlon Monday on a felony charge of first-degree rendering criminal assistance.
The Lazcano brothers were arrested Friday and remain jailed on murder charges.
Schur's body was pulled from the creek at the south end of Bonnie Lake March 25 after a fisherman spotted his body. An autopsy showed he was shot to death.
Schur had been missing since a dinner party on Dec. 27.
Host Nick Backman told The Spokesman-Review last week that Schur fled the rear door of a home in Malden when one man burst in and chased him out.
Backman said Schur's arms and legs were bound when his body was removed from the lack. He said the chase may have proceeded a home burglary.
Detectives still are investigating a motive, Whitman County Undersheriff Ron Rockness said today.
"Of course, the whole town of Rosalia assumes they know the motive," Rockness said.
Rockness said the suspects knew Schur since childhood.
Schur's mother, Grace Schur, said memorial service plans are not yet finalized. A donation fund to help with expenses has been set up at the Bank of Fairfield.
Schur's uncle, Gene Schur, of Spokane, said he was shocked to learn of his nephew's murder from a TV news station.
"It happens to other people, but when it actually hits home it makes you more aware of what's going on in the community," he said.
It's the first mruder arrest in Whitman County since 2005. A murder-suicide was reported there in 2010.
---
---