Fri., April 20, 2012
Warrant issued for '80s 'mountain man'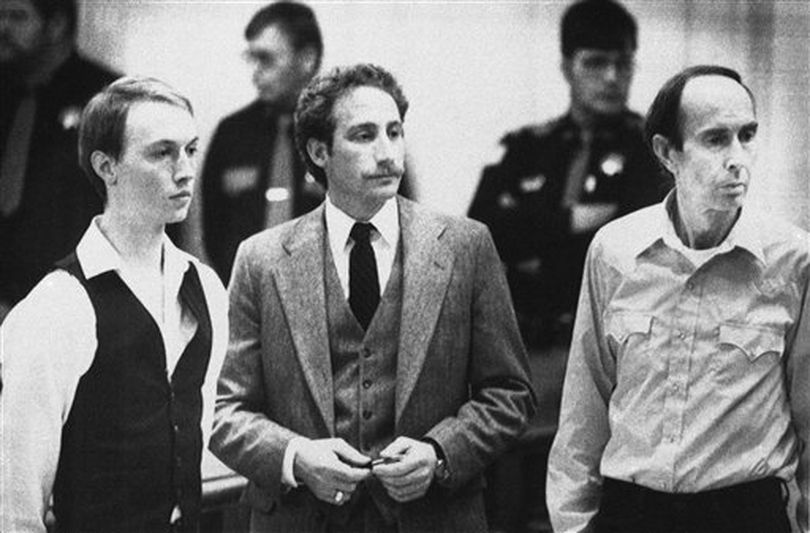 This Dec. 18, 1984 file photo shows Don Nichols, right, standing with his son, Dan Nichols, left, as they pled not guilty in court in Virginia City, Mont. Standing with them is attorney, Steve Ungar. (AP Photo/File)
By MATT GOURAS,Associated Press
HELENA, Mont. (AP) — One of the infamous "mountain men" who in the 1980s eluded authorities for five months by living in the wilderness is on the run from the law again — and considered "armed and dangerous."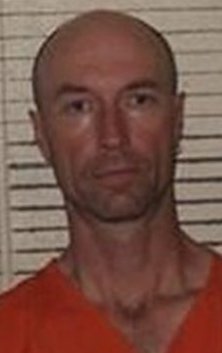 The U.S. attorney's office in Montana has filed federal drug and weapons charges against Dan Nichols, who with his father was convicted in kidnaping a world class athlete in 1984, killing a would-be rescuer and hiding in the remote mountains northwest of Yellowstone National Park.

An indictment unsealed Wednesday alleges Nichols and two other men were involved in a statewide marijuana distribution ring that netted nearly $1.8 million. The news comes as his 81-year-old father, Don, comes up for a parole hearing next week.

Federal marshals said they are now looking for the younger Nichols, who was previously wanted in state court for not appearing earlier this year on relatively minor drug charges filed after his arrest at a rock concert. The new federal charges allege a much larger conspiracy.

"He should definitely be considered armed and dangerous," said Chief Deputy U.S. Marshal for Montana, Rod Ostermiller. "He is obviously someone who hasn't been compliant with law enforcement in the past."

Ostermiller wouldn't say whether authorities believe Nichols has taken to the woods again. But he warned the public to be wary of the 5-foot-11, 150-pound Nichols.

"I think there is some definite safety issues involved regarding this individual," the marshal said. "That is just one thing we can't stress enough."

The original, bizarre crime gripped the state and the nation when the father and son abducted world-class biathlete Kari Swenson in 1984 while she was on a training run in the mountains above the resort town of Big Sky. The elder Nichols was reportedly looking for a wife for his then 19-year-old son.

The so-called mountain men had been living continuously in the woods for a year prior to the abduction, growing hidden makeshift gardens, poaching game and generally staying out of sight.

The scheme quickly fell apart when would-be rescuers stumbled upon the camp. In the melee, Dan Nichols accidentally shot Swenson. An armed standoff ensued, and the elder Nichols gunned down Alan Goldstein.

The Nichols evaded capture by living in the Madison Range, until they surrendered when a Madison County sheriff caught up with them.

Swenson, despite diminished lung capacity from the gunshot wound, went on to win a bronze medal in the world biathlon championships.

The new charges against Nichols include allegations the felon illegally amassed dozens of rifles, assault weapons, pistols, and shotguns while engaged in drug crimes. Christopher Wayne Williams and Christopher Lindsey, two of the five co-founders of the now-shuttered Montana Cannabis statewide medical marijuana operation, are also charged, but they are not on the run.

Drug Enforcement Administration agent Wesley Smith said Thursday at a sentencing of Richard Flor, another Montana Cannabis co-founder, that Nichols worked for Williams at the operation's Helena marijuana nursery overseeing the care of hundreds of pot plants.

Federal agents raided the nursery as part of a crackdown on medical marijuana operations last year, and Smith said agents found a handgun in the camper that Nichols had been living in next to the nursery.

Federal authorities say the trio was involved in an operation that grew and sold marijuana in several Montana cities from 2006 until 2011. This came at a time when many in the state thought they were legally running medical marijuana businesses under a state law.

All of the Montana Cannabis co-owners, who also ran the Montana Caregivers Association, have been indicted or pleaded guilty to federal drug charges.
---
---