Thu., Feb. 16, 2012
$100k bond for BB gun-wielding man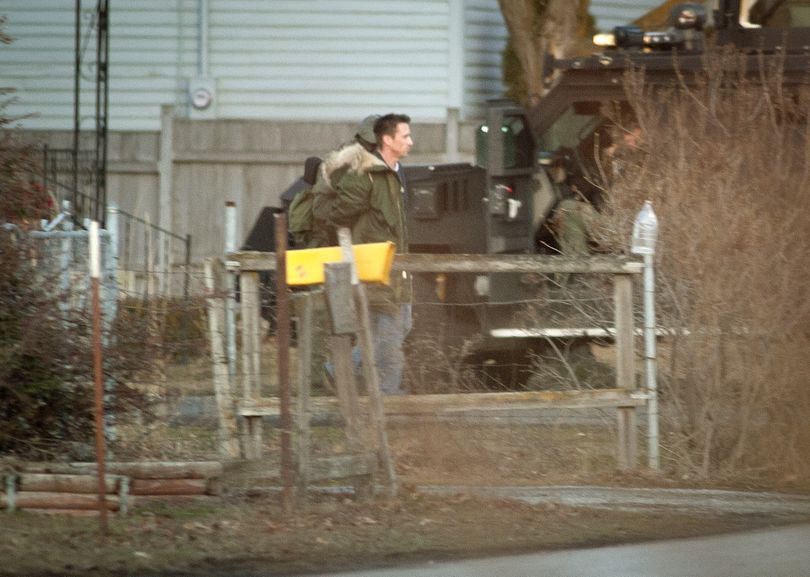 Ryan Lancaster, 39, surrenders to the Spokane County SWAT team after a standoff Wednesday. (SRphoto/Colin Mulvany)
A man who caused lock downs at two Spokane Valley schools Wednesday when he was reported to be running around with a gun is to remain jailed on $100,000 bond.
Ryan C. Lancaster, 39, appeared in Superior Court today after he was arrested during a SWAT team standoff Thursday in the 12000 block of East Valleyway.
Lancaster was armed with a BB gun when he confronted his ex-girlfriend and another woman after entering the apartment at 11910 E. Broadway Ave. though a window, according to court documents.
One of the women told police Lancaster pulled the trigger but the gun didn't fire, which led her to believe it was one of his BB guns. He left the apartment with $160 and his ex-girlfriend's wallet. The woman's daughter asked a neighbor to call police. She returned to see Lancaster pointed the gun at her mother, according to police.
Neighbors Shawn Loughbom, 23, and James Hoover chased Lancaster but backed off slightly after he pointed a gun at him, police say. Lancaster went to an acquaintance's home on East Valleyway, where he was arrested by the SWAT team. A 57-year-old man and an infant were inside the home. Read more here.
In interviews with police, Lancaster denied pointing the BB gun at anyone but said he was scared when the men were chasing him and did show the gun to them.
Lancaster appeared in Superior Court today on charges of first-degree robbery, possession of meth, second-degree theft and two counts of second-degree assault.
---
---