Woman pleads not guilty to 4 hate crimes
A woman arrested after a black man said she dressed in a white sheet and yelled racial epithets at him and his two children on Halloween night has been cha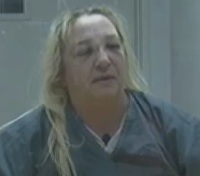 rged with four hate crimes.
Sharyl Ann Curtis, 42, pleaded not guilty Monday to four counts of malicious harassment - Washington's hate-crime statute - for the alleged incident in the 5000 block of North Lacey Street.
She was arrested early Nov. 1 after Tyree Brown told Spokane police he opened his front door to her yelling racial epithets while wearing a white sheet with "KKK" written on it. She also allegedly did the same thing to Brown's neighbor, Teravia McDonald.
Curtis is pictured courtesy KHQ-TV. Check out their interview with her here.
Curtis also sprayed a liquid at Brown's children that she said was bleach that would make everyone white, according to a probable cause affidavit written by police. Police said they found Curtis sitting in a nearby "yelling unintelligibly."
While being treated at a hospital for a broken nose apparently sustained during a fight with pursuing neighbors, Curtis told officers "I will raise my son white power" and used a racial slur while raising her right arm in the air, according to the affidavit. She also allegedly said her son would shoot police and she would provide the ammunition.
Curtis posted $2,500 bond after her arrest and remains out of jail. Her trial is scheduled to begin April 2.
---
---