Fri., Jan. 13, 2012
Cops hope colonial ties reheat cold case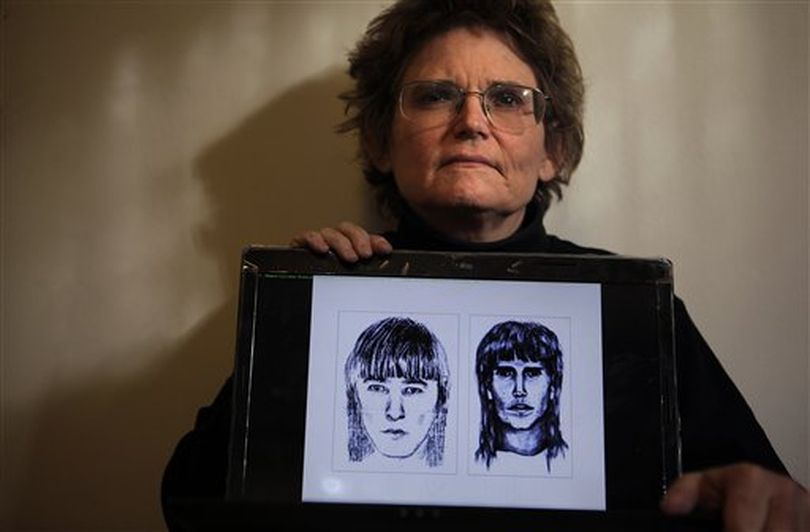 Forensic genealogist Colleen Fitzpatrick poses with her laptop showing two composite sketches of a suspect in the 1991 killing of a Washington teenager, in Huntington Beach, Calif., Wednesday. The analysis on a DNA profile from the suspect shows that he is distantly related to three passengers who arrived in what is now Plymouth, Mass., on the Mayflower in 1620. (AP Photo/Jae C. Hong)
By GENE JOHNSON,Associated Press
SEATTLE (AP) — William S. Fuller followed the news with interest this week when detectives announced a strange new lead in the search for a man who killed his friend's daughter two decades ago.
Relying on a new DNA analysis, the detectives said the unknown suspect is a distant relative of Edward and Samuel Fuller, who crossed the Atlantic on the Mayflower in 1620 — and that he might even share their last name.
It was an awkward coincidence, the present-day Fuller told The Associated Press on Thursday.
The 68-year-old worked for many years with the father and grandfather of Sarah Yarborough, a 16-year-old girl who was raped and strangled in the Seattle suburb of Federal Way in 1991. His daughter was one of Yarborough's best friends, and he spearheaded the effort to build a memorial for her. Fuller said he doesn't know if he's related to the Pilgrims, but he is certain that no one in his family could be the culprit.
"Is it something we're worried about? No, not at all," Fuller said. "Because they know how close we were to the Yarboroughs, some people have asked about it jokingly, but they know it's not a good question."
The King County Sheriff's Office, long stymied by the case, announced this week that it had sent the suspect's DNA profile to forensic genealogist Colleen Fitzpatrick, who runs Huntington Beach, Calif.-based Identifinders International. Fitzpatrick noticed that the killer's DNA strongly correlated with DNA profiles published as part of a genealogical study of the Fuller family.
Specifically, she said, the killer is a descendant of Robert Fuller, who arrived in Salem, Mass., in 1630. Fuller was not himself on the Mayflower, but he was related to three passengers: Edward Fuller, as well as Edward Fuller's brother, Samuel, and 12-year-old son.
Fitzpatrick's analysis followed the Y chromosome — the male line of the family — and therefore, there's a good chance the killer's last name is or was Fuller, she said.
Detectives searched through their tip database following Fitzpatrick's finding, but no one named Fuller has ever been fingered as a potential suspect in Yarborough's death, King County sheriff's detective Jim Allen said.
Today, there are tens of millions of people descended from the 102 passengers and about 25 crewmembers who arrived on the Mayflower, according to the General Society of Mayflower Descendants. Nine presidents have been related to those original Pilgrims.
Yarborough was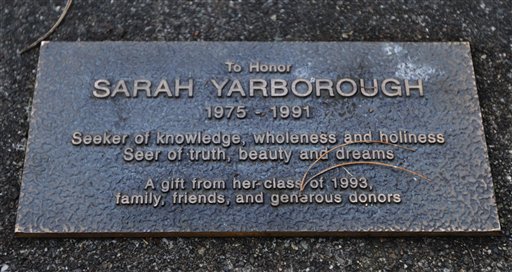 last seen alive on a Saturday morning in December 1991, when she left home to take part in a dance team competition. Her body was found later that morning.
There were plenty of people at the high school that day. In addition to those arriving for the dance competition, there were some school-related activities and people out running or walking their dogs, Allen said. About six people saw the suspect — including two kids, a jogger, a man who helped create a sketch of the suspect, and a girl on the drill team.
They described him as being in his 20s, white, 6 feet tall or just under, with shoulder-length blond hair, a trench coat and dark pants. One saw the suspect interacting with her, and some saw him leaving the brushy area where her body was found.
In the months after the slaying, more than 3,000 tips poured in, students began packing pepper spray, and parents marshaled in the hallways outside of classes to reassure their children they were safe.
Allen said he is interested in speaking with William Fuller, who still lives in Federal Way, a south Seattle suburb, and who was 48 at the time of the killing.
Fuller, a longtime coworker and friend of Yarborough's father and grandfather at Weyerhaeuser Corp., told the AP he has five daughters and no sons, and he himself was an only child, so he has no nephews that could have matched the description. His family has been able to trace their lineage no farther than a great-grandfather in Idaho, he said.
Fuller said that when Yarborough was killed, he was only about one-third of a mile away, running on the track at the junior high school.
"I remember that back then I was running — I ran 20 to 25 miles per week," Fuller said. "Periodically I'd run at the high school track, but during the time she was killed I was running at the junior high. What if I had decided to go run at the high school? Knowing I was so close when it happened really bothered me for a long time. But you can't beat yourself up like that."
If he had been at the high school track, he said, "certainly if she had screamed or yelled I would have heard it. But the Lord works — well, that wasn't where I was supposed to be."
After the killing, Fuller said he joined other parents in roaming the hallways of the school during and between classes, as a way to reassure their children that they were safe. Weyerhaeuser gave him time off to raise money to build a memorial on the school's campus, and he commissioned an artist to sculpt a bench accompanied by a pile of books, a pair of ballet slippers and a necktie — the last because the week before she died, Yarborough won an ugly necktie contest.
The idea for the memorial came about "simply from talking to the parents and saying we ought to do something," Fuller said.
When the news about the apparent Mayflower link came out, Fuller spoke with his daughter Elizabeth, who was one of Yarborough's best friends and who now lives in Kentucky.
"It's encouraging, but she has mixed emotions," Fuller said. "It's emotional when you bring it up. We've been hoping and praying for a break in the case."
---
---