Fri., Jan. 13, 2012
Cops: Man steals pellet gun, robs store
Police say a man made quick use of a pellet gun he stole from Wal-Mart: He robbed a video game store across the parking lot.
Suspect Merle A. Andrew, Jr., 36, was arrested early today for a robbery Tuesday at GameStop in Airway Heights.
Surveillance video shows a man police believe is Andrew steal the Airsoft pistol from the Wal-Mart at 1221 South Hayford Road about 4 p.m., then return to a 1997 Honda Accord that was parked in the fire lane, according to court documents.
The car traveled through the parking lot to GameStop, where Andrew exited and returned after robbing the store of $976, police say. Police identified the driver as N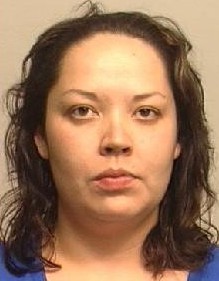 icole N. Stearns, 29, (pictured) and arrested her for first-degree robbery the same time as Andrew.
A sheriff's deputy located the Accord at Highway 2 and Spotted Road about 1:30 a.m today and detained Andrew and Stearns.
Stearns allegedly told officers she drove when Andrew committed five other robberies in Spokane County, police say.
Stearns and Andrew appeared in Superior Court today on a first-degree robbery charge. Judge Annette Plese set Andrew's bond at $10,000. Stearns is in jail on an additional municipal court warrant.
Andrew has no felony convictions and 12 misdemeanor convictions. He's unemployed, is supported by his father and food stamps and has six children who live with their mother, according to court testimony.
---
---