Tue., Jan. 17, 2012
Police chase w/ stolen car ends in crash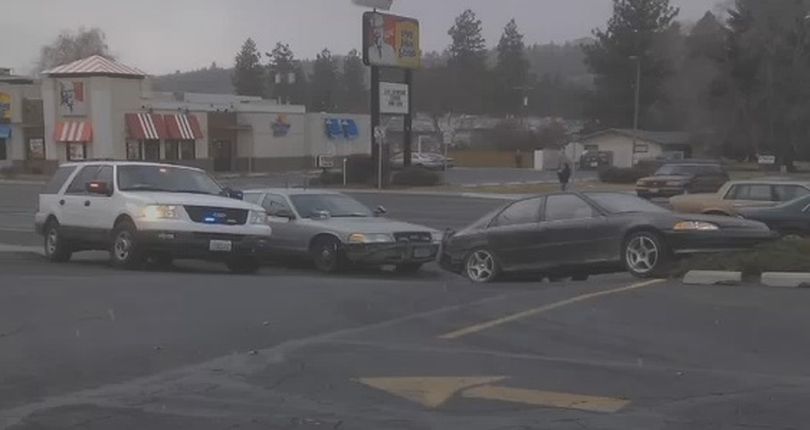 This crash in north Spokane began when a sheriff's deputy tried to pull over the Honda. (KHQ-TV photo)
A man in a stolen car swerved into a police cruiser during a chase in north Spokane this afternoon.
The suspect, Aaron D. Lyons, 33, was arrested after he crashed the 1992 Honda Civic into shrubbery while trying to turn into the Rite Aid parking lot on North Division Street. Deputy Jeff Thurman blocked the Civic with his patrol vehicle and arrested Lyons, according to the Spokane County Sheriff's Office.
The chase began about 12:39 p.m. when Thurman tried to stop the Civic in the 8500 block of North Country Homes Road for failing to display license plates.
Before Lyons crashed near Rite Aid, Thurman tried to stop car with a "pursuit intervention technique" that involves nudging the back bumper of a fleeing vehicle, which forces it into a spin and brings it to a stop, but Lyons swerved into Thurman's car to avoid the move, the sheriff's office said.
The Civic was reported stolen on Sunday. Lyons also had a stolen credit card with him, according to the sheriff's office.
Lyons was booked into jail on felony charges of second-degree assault, attempting to elude police, possession of a stolen motor vehicle, second-degree malicious mischief and possession of stolen property, and misdeamenor charges of driving under the influence and driving while license suspended.
---
---